Women's Leadership –The Next Generation program 2018
Vientiane, 24 August 2018
Thirty-one young women have completed a five-week intensive job readiness and leadership course as part of the Australian Government's Women's Leadership – The Next Generation program, improving their professional skills and confidence for employment. The course was delivered in the Lao PDR from July to August this year through leading Australian University the Queensland University of Technology (QUT) in coordination with the Laos Australia Institute (LAI).
The 31 young women were congratulated on their success at a ceremony held in Vientiane, and attended by the Australian Ambassador to Laos H.E. Mr Jean Bernard Carrasco and Associate Professor Dr. Somchanh BOUNPHANMY, Vice President of National University of Laos. During the ceremony, Ambassador Carrasco said the Next Generation program is part of Australia's focus on supporting talented young women from remote communities and disadvantaged backgrounds, and helping them to access leadership and professional development opportunities.
"By equipping these women with leadership skills and the necessary tools to be work ready they will be more confident to access and advance in the Lao labour market," Ambassador Carrasco added, "and the full participation of women in the workforce at all levels is vital to economic growth in the Lao PDR."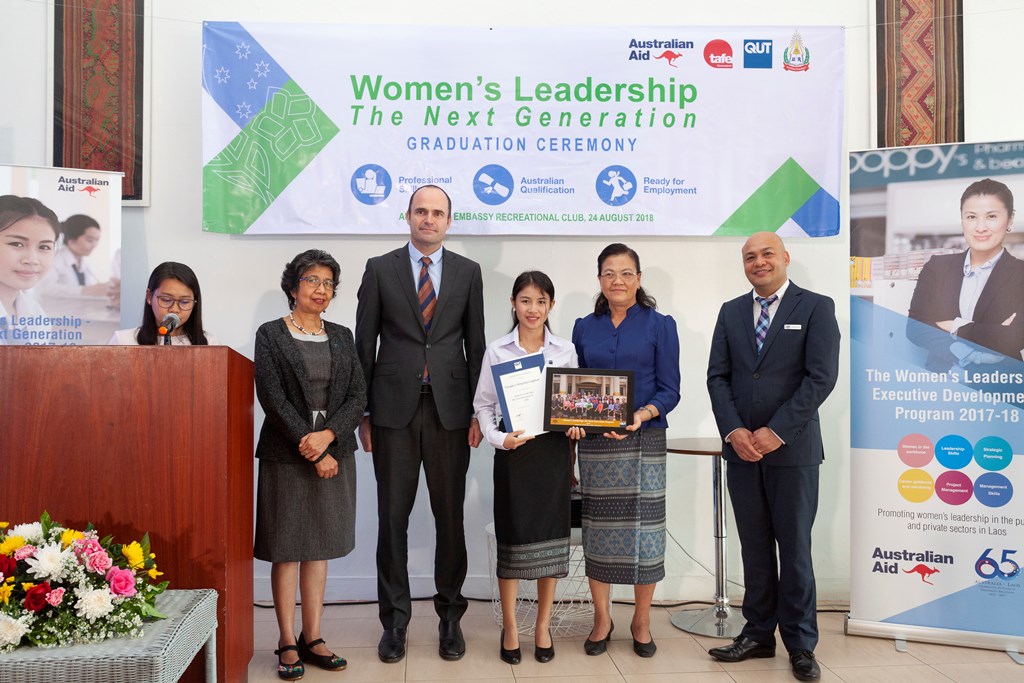 Ms Lou De Castro Myles, QUT Course Designer and Leader, stated that a key focus of the course was ensuring the women could put their new learning into practice. On Wednesday, 22 August at the Lao Plaza Hotel in Vientiane, QUT and LAI organised a Skills Expo for employers to meet with the Next Generation participants so they could demonstrate their systems thinking, prioritising and planning, teamwork and diversity, innovation and entrepreneurship, career planning and job preparation skills.
The 31 young women are hoping to obtain an Australian qualification from the course that will make them very attractive to potential employers. This qualification will be awarded through QUT's associate registered training organisation, TAFE Queensland.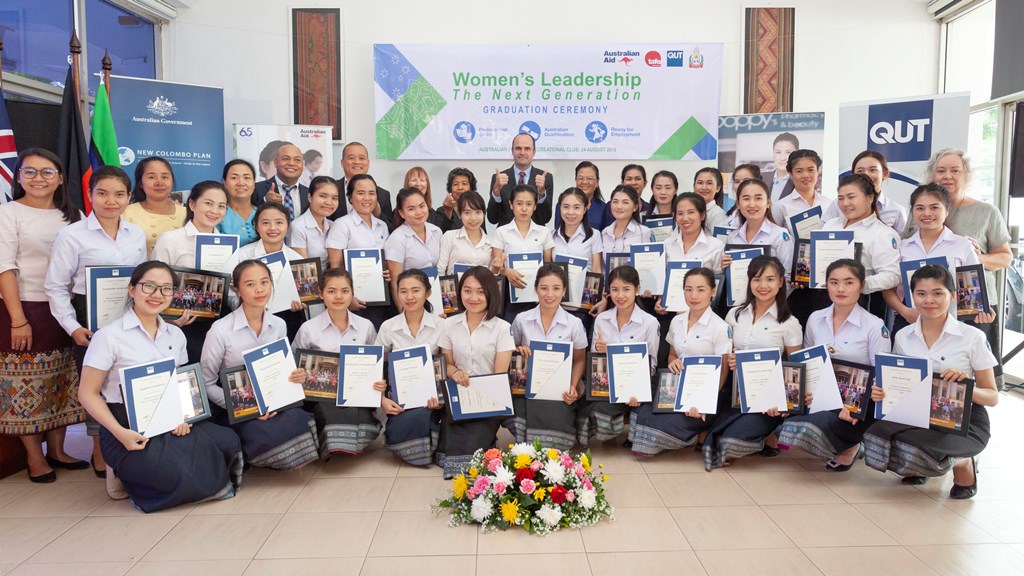 "I am grateful for the opportunity to participate in this very exciting program," said Ms Naly Maniseng, a LANS graduate with a bachelor's degree in mass communication from Luang Prabang Province. "It has been a very hectic five weeks and the various concepts and tools I learned will put me in a better position to match the skills required by employers," she further commented.
The young women discussed leadership in the context of self-leadership and team leadership. "Learning to work with a team as well as being a team leader presented me with a great learning experience. The program also allowed me to have a good understanding of planning, prioritising and time management which are very important in leading ourselves and others," said Ms Malylao Dalor, from DongDok, a LANS bachelor degree graduate in computer science and a participant in the program.
The Next Generation Program has just completed its second year, with 59 young women now having benefited from the leadership and management course with QUT. All of the Next Generation program participants are graduates from the National University of Laos with the Laos Australian National Scholarships program. Applications for the Laos Australian National Scholarships program open on 3 September.
_________________________________________________________________________
For more information:
Phone: +856 21-265 721
Email: infoawards@laosaustraliainstitute.org
Media Contact:
Ms Namchaythip Souvannavong
PR and M&E Coordinator
Laos Australia Institute
Phone: +856 20 5555 5515
Email: Namchaythip.Souvannavong@laosaustraliainstitute.org