Australia has had a long-standing development cooperation engagement in the Lao PDR. Australian aid currently focuses on basic education, trade and investment facilitation and rural development.
The Australian Government will provide an estimated $40.7 million in total Official Development Assistance to Laos in 2016-17. This will include an estimated $20.6 million in bilateral funding to Laos managed by Department of Foreign Affairs and Trade. Other Australian Government agencies also provide assistance programs for their Lao counterparts valued at more than A$6 million per year, including the Australian Council for International Agricultural Research (ACIAR), Australian Federal Police, and the Departments of Defence and Immigration and Border Protection.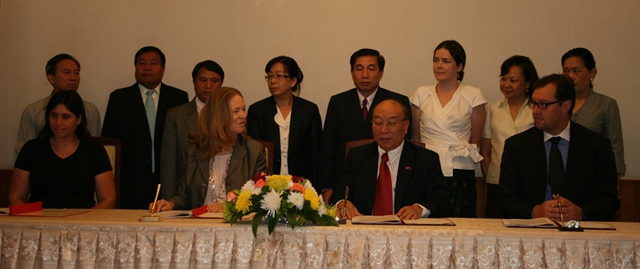 Signing ceremony of global partnership for education between Ministry of Education and Sports (MoES), World Bank, UNICEF and Australian Embassy at MoES office on 4 September 2014
Aid Investment Plan
The Aid Investment Plan sets out the direction for Australia's aid-program in Laos. It is designed to help ensure the most effective use of Australia's aid.
The Aid Investment Plan for Lao Program 2015-16 to 2019-20. English /Lao
Basic Education
Education is the flagship of Australia's development cooperation partnership with the Lao PDR. Building on Australia's longstanding investments, the first phase of Australia's new Basic Education Quality and Access in Lao PDR (BEQUAL) program ($86 million; 2014-18) will be delivered in 65 of the most educationally disadvantaged districts to: increase student participation; improve learning environments (such as the construction of new classrooms); and improve teacher quality (such as training 360 ethnic minority women to become teachers in their communities). The program will be implemented using a mix delivery approach that will utilise the skills of multilateral agencies, managing contractors and non-government organisations.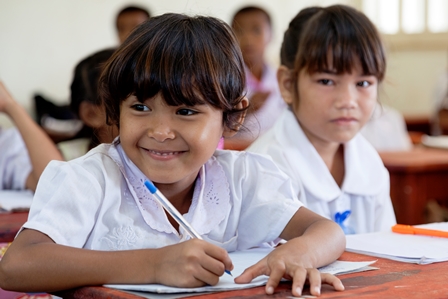 A young girl studies happily in a new school building under Education For All - Fast Track Initiative (EFA-FTI) Program
Frequently Asked Questions from INGOs and NPAs for BEQUAL. Read more >>
Request for Submission of Capacity Statement for Basic Education Quality and Access in Lao PDR (BEQUAL) NGO/NPA Consortium - Guidelines and Templates
Response from the Embassy to questions from INGO regarding BEQUAL 'Request for submission of capacity statements'. If you have any further questions, please contact: bequal.consortium@dfat.gov.au
EVALUATION REPORT, August 2015: Right to Learn
As skills development is one of Lao PDR's highest priorities and one of its most significant development challenges. Australia is supporting education and skills development in Laos through targeted training and scholarships for government and civil society to improve the management and delivery of social services through the new Laos-Australia Institute (A$20 million, 2013-17).
The Institute will enhance existing Australian aid investments in Laos in the areas of education, trade and development, rural development and water resource management through developing the human capacity of individuals and organisations. It will focus, in particular, on inclusive human resource development, such as empowering women and people living with disability to take on leadership and senior management roles. The Laos-Australia Institute will deliver 50 long-term Australia Awards scholarships each year, and actively support the more than 1,100 Australian alumni in the Lao PDR.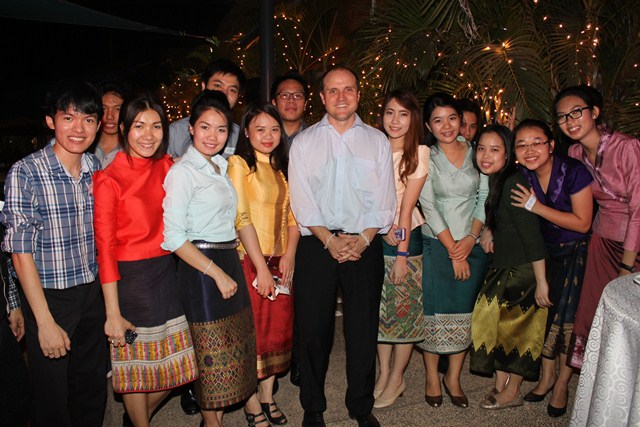 Ambassador John Williams (centre) hosting Australian Alumni function in Vientiane
Trade and Investment Reform
Australia supported the Lao PDR's accession to the WTO in 2013 through investment to provide technical support and broader legal and regulatory reform through the Trade Development Facility Phase 1 (A$3million, 2007-2013).
Australia continues to support Laos' integration into the regional and multilateral trading system through the Trade Development Facility (TDF) Phase 2 (A$5 million, 2013 to 2017). Work undertaken through this facility will assist in: reducing the costs of trade by simplifying procedures at the border; improving labour standards and skills in export industries such as garments manufacturing; and completing regulatory assessments in priority sectors. Through TDF Phase 2, Australia also provides grants and advisory services to Lao businesses to improve their competiveness and ability to export, with a particular focus on women entrepreneurs.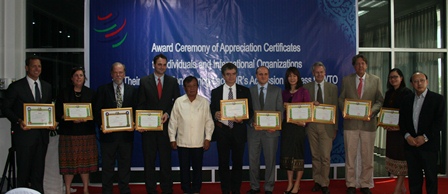 Ambassador John Williams (centre right) together with other international organizations received certificates of appreciation from the Ministry of Industry and Commerce for their supports to Lao PDR World Trade Organization accession process
Rural Development
The Lao PDR is on a growth path which has helped stimulate economic development, but growing inequality impedes overall progress. Australia supports inclusive economic growth through rural development initiatives that ensure cash incomes for the poor, and pro-poor service delivery to foster greater community resilience to shocks and vulnerabilities.
Australia's major rural development investment is the Laos Australia Rural Livelihoods Program (A$43 million, 2012 to 2016). Under the program, the following results will be achieved: around 35,000 vulnerable people with access to social protection (cash and asset transfers) along with economic and resilience coaching; at least 350,000 rural poor will have access to financial services; and more than 250,000 community members will benefit from safe agricultural land that has been cleared of unexploded ordnance.
Australia also supports rural development through the Poverty Reduction Fund (A$20 million, 2011 to 2017), which is a community-based infrastructure initiative that improves the access of poor remote villages to livelihood opportunities and essential services. So far under the program, Australia has supported the completion of more than 650 community infrastructure investments across 10 provinces, benefitting more than 280,000 individuals, including women from poor ethnic communities.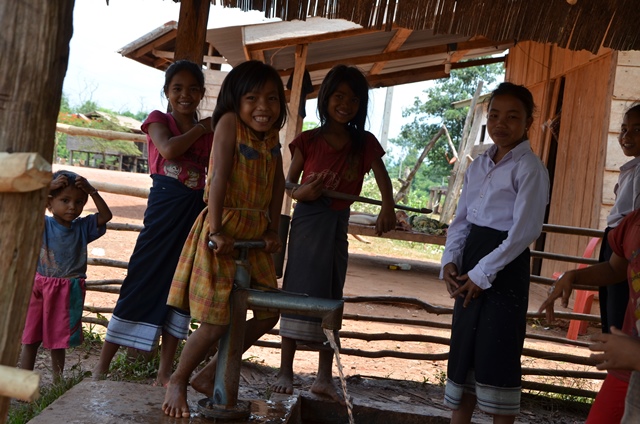 Children collecting water from a bore built in Savannakhet Province supported by the Poverty Reduction Fund II program
Other Programs – Water, Agriculture Research and Trafficking in Persons
Natural resources play a vital role in the Lao economy, representing 37 per cent of Laos' GDP. Hydropower, in particular, holds a prominent role in the Government of Laos' current National Socio-Economic Development Plan, and is seen as a major potential source of future revenue. Australia is supporting regulatory reform of the natural resources sector focussed on better management of land concessions, stronger social and environmental protocols, and fiscal reform to ensure mining and hydropower revenue is captured in the national budget system. Australia is also working with hydropower developers to strengthen the social and environmental standards of their projects.
Australia has been a donor to the Mekong River Commission (MRC) since 1996, providing more than A$20 million to date. Support for the MRC is only one component of Australia's Mekong Water Resources Program (A$47 million, 2007-2014). The program also works with civil society and directly with MRC member governments to promote regional cooperation in achieving sustainable development. A new Mekong Water Resources Program has been designed for 2014-2018 (approximately A$40 million). A specific program in Laos provides technical assistance to the government to improve the oversight capabilities for the hydropower and mining sectors.
The Australian Centre for International Agricultural Research (ACIAR) is running 17 projects in Laos, at an estimated cost of over A$6 million annually, to strengthen Laos' agricultural sector by providing market-driven alternatives to current farming practices and piloting new crops and products.
To read more, please click here
Temporary File