Strengthening customs and trade ties with Laos
17 November 2016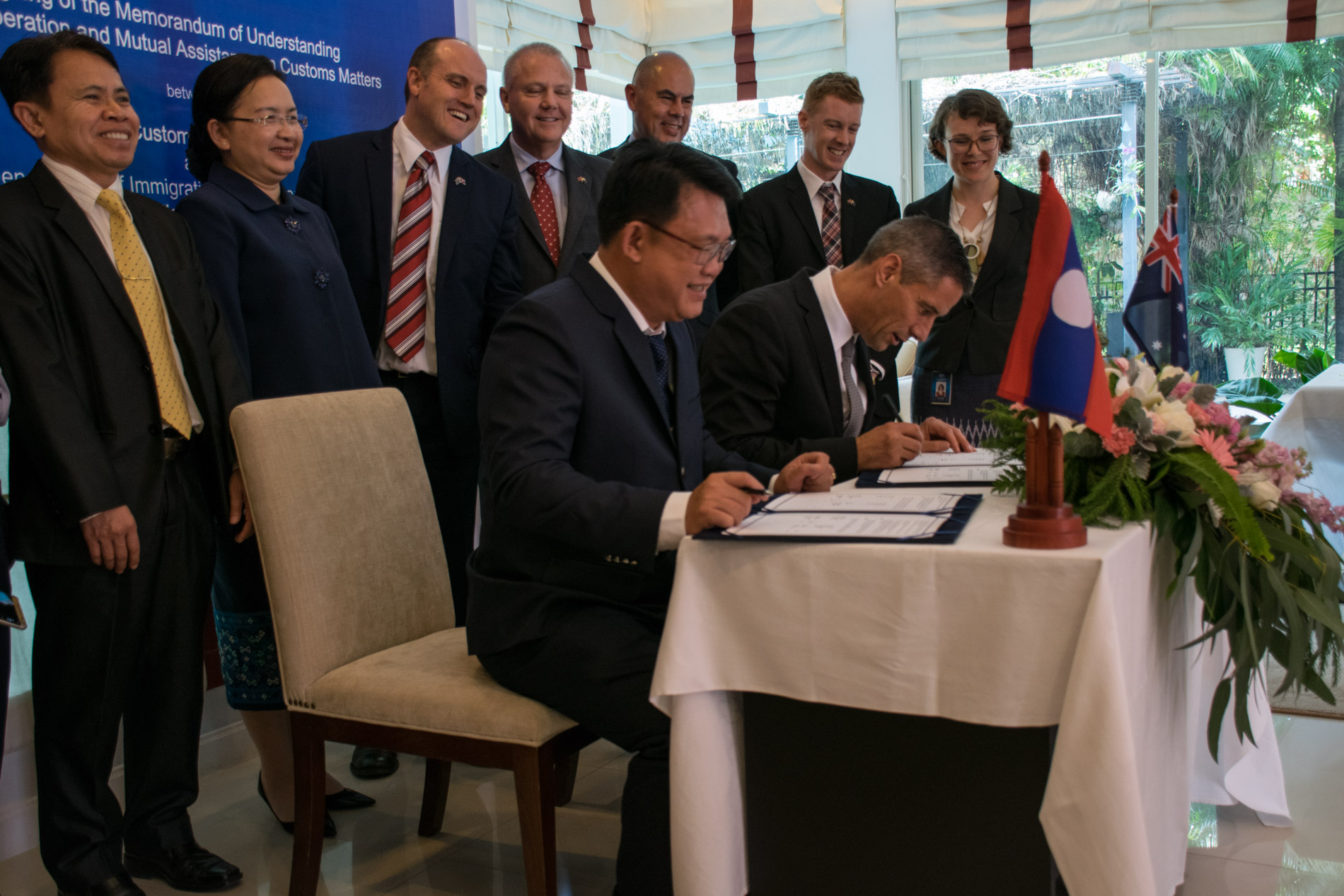 Customs-to-customs ties between Australia and Laos have been boosted by the signing of a new arrangement in Vientiane today.
Australian Border Force Commissioner Roman Quaedvlieg is visiting the region to further cooperation on countering the trade in illicit drugs and precursors and enhance the Australian Government's immigration and border protection relationships with Lao counterparts.
Commissioner Quaedvlieg said Australia's strong relationship with Laos was underpinned by the two countries' shared interests in facilitating the legitimate flow of people and goods throughout the region.
Australia's Ambassador to Laos, John Williams, and Laos' Vice Minister for Finance, Mme Thipphakone Chanthavongsa, attended a ceremony where Commissioner Quaedvlieg and the head of the Lao Customs Department, Mr Bounpaseuth Sikounlabout, signed a Memorandum of Understanding for Cooperation and Mutual Assistance on Customs Matters.
"This arrangement provides a framework for future engagement with a particular focus on information exchanges to help counter the trafficking of illicit drugs and precursors in the region," Commissioner Quaedvlieg said.
"It reflects the importance of working in partnership with our regional neighbours to combat transnational crime and the movement of illicit drugs, particularly through information sharing."
Bilateral cooperation between the Department of Immigration and Border Protection and the Lao Customs Department has increased significantly over the past 18 months.
"This year, we have provided training to our Lao counterparts in vessel search, information analysis, document examination and English language courses," Commissioner Quaedvlieg said.
The Commissioner also met the Chairman of the Lao National Commission for Drug Control and Supervision, Mr Kou Chansina, and gifted equipment to help Laos expand its national coordination centre and two border outposts in support of Operation Safe Mekong – a sub-regional cross border initiative to combat the illicit trade in narcotics.
Noting its synergies with Australia's 2015 National Ice Action Strategy, Commissioner Quaedvlieg met the Director-General of the Lao Department of Immigration, Lieutenant Colonel Saysaming Sivilay, to discuss Laos' hosting of the ASEAN Directors-General of Immigration Department and Heads of Consular Affairs Divisions of the Ministries of Foreign Affairs Meeting (DGICM) in 2017.
"The Department of Immigration and Border Protection welcomed the opportunity to support Lao officials to travel to Indonesia earlier this year to observe the preparations and running of the 2016 DGICM," Commissioner Quaedvlieg said.
"In addition to our bilateral engagement, the Department remains committed to a number of multilateral initiatives in which the Lao PDR participates."
Australia supports the United Nations Office on Drugs and Crime (UNODC) Container Control Programme being established at Thanaleng, Vientiane Province, and the Partnership against Transnational Crime through Regional Organised Law Enforcement (PATROL), to combat the illicit trafficking of drugs and other transnational organised criminal activities.
Media contact: Immigration and Border Protection (02) 6264 2244