Australia announces new funding for UXO clearance in Attapeu Province
Vientiane, 27 June 2019 – The Government of Australia has increased its contribution to UXO clearance operations in the areas flooded last year in Attapeu Province in order to ensure the safety of resettled communities dislocated by the floods.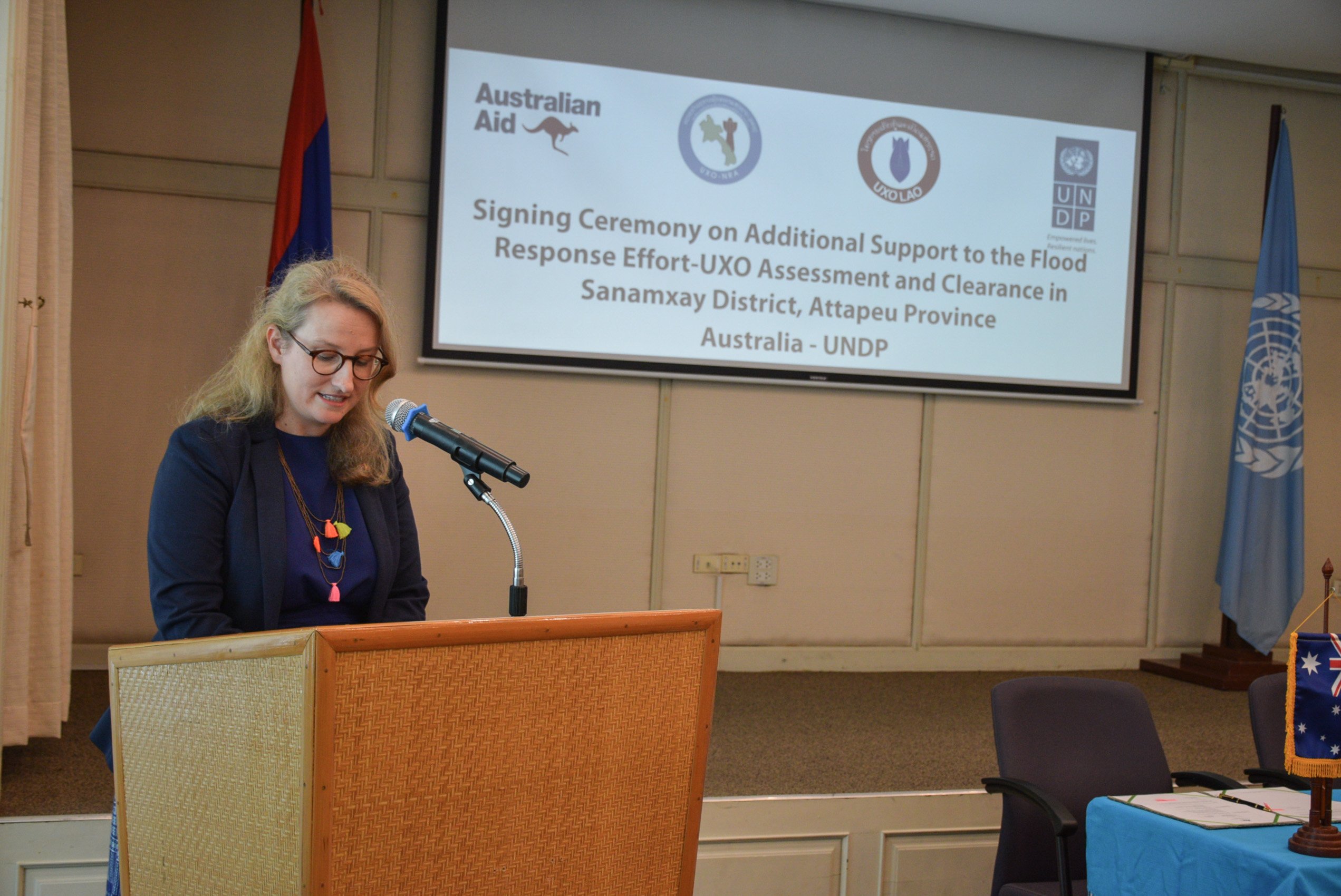 The Government of Australia just announced an additional AUD 407,000 (approx. USD 291,000) to carry out UXO clearance operations in Attapeu Province. Since September 2018, the initial funding of AUD 200,000 has permitted the deployment of five additional UXO Lao clearance teams in Sanamxay district, Attapeu Province, to support the flood response through area clearance for emergency displacement and permanent settling of people afflicted by the floods. This additional funding will bring Australia's total assistance to UXO clearance to AUD607,000, and total Australian humanitarian assistance in Attapeu to AUD3.4 million.
Attapeu is one of the most UXO contaminated province in Lao PDR. 94 percent of villages in Attapeu are contaminated by UXO. Following the flooding, there are higher levels of risks posed by UXO in the flooded areas as UXO might have been shifted by the floods. The Governor of Attapeu requested UXO Lao to deploy an Explosive Ordnance Disposal team to Sanamxay district.
The Post-Disaster Needs Assessment (PDNA) estimates the total cost of recovery needs after the floods in the UXO sector at 17,8% of the total needs figure, which is USD 520 million. This is the second largest tranche of needs after the transport sector.
Australia's newly pledged funds will help contribute to the PDNA needs for recovery and reconstruction and will cover eight months of UXO Lao clearance operations by five teams in Attapeu Province. By December 2019, they expect to clear around 120 hectares of contaminated land in the flood-affected villages and their vicinity.
In addition to survey and clearance, UXO Lao also organizes risk education sessions in Attapeu Province. A survey conducted all over the province before the floods which is yet to be completed found that at least 12,225 hectares are Confirmed Hazardous Areas, where the presence of UXO requires clearance.
Ms Jane Chandler, Chargé d'affaires of Australia to Lao PDR said: "Australia's support for UXO Lao in Attapeu Province builds on our many years of investment helping the Lao Government to tackle the challenge of UXOs and achieve its Sustainable Development Goal number 18.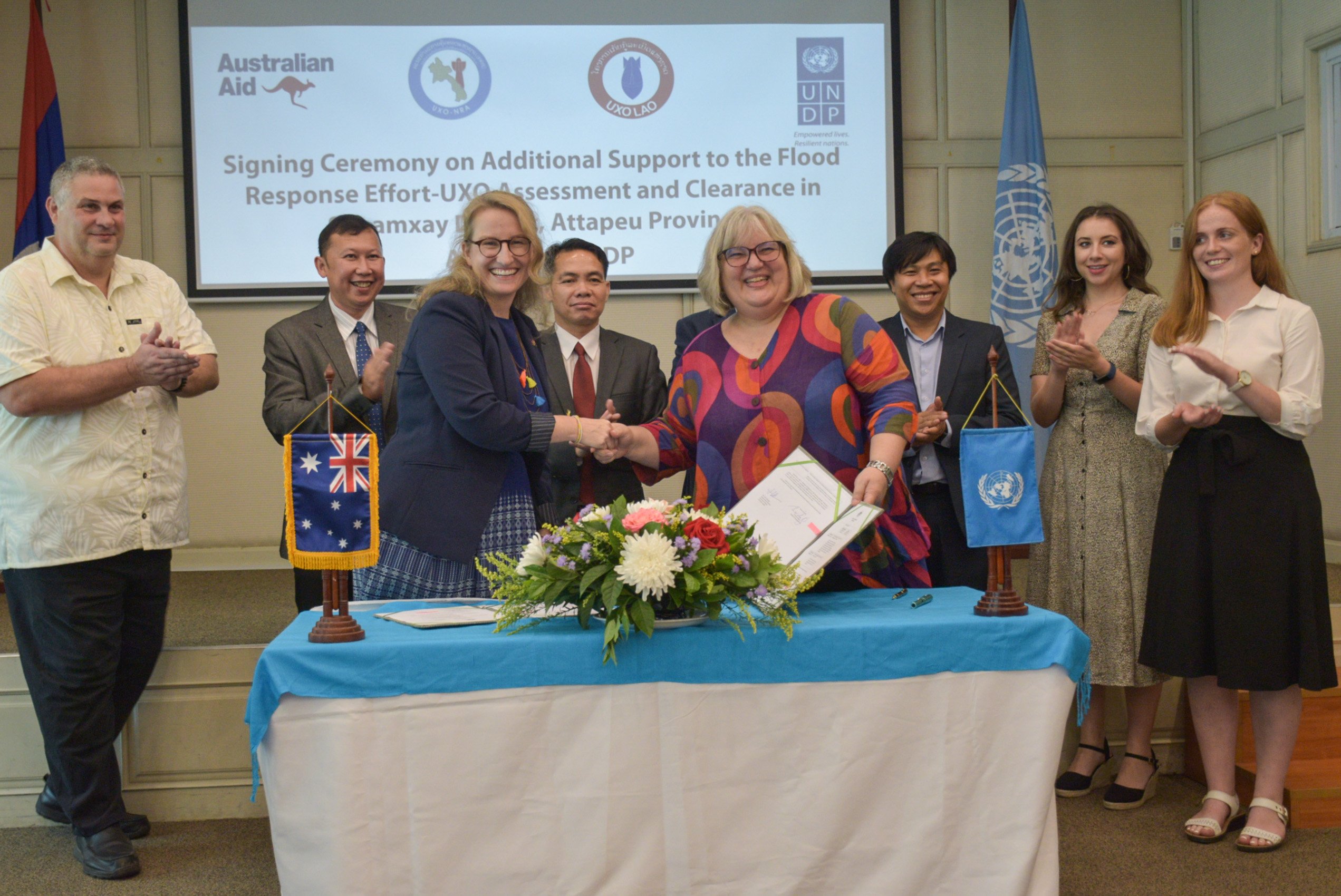 This additional funding will help contribute to the national disaster recovery framework for flooding response needs and will enable UXO Lao to continue its operations and clear UXO contaminated land to ensure people in Attapeu have access to safe residential and agricultural land."
UNDP Resident Representative Ms. Ricarda Rieger said: "UNDP's long-standing cooperation with the Government of Lao PDR in the UXO sector comes into play specifically when we can move swiftly in times of distress. Following last year's tragic floods, we are thankful to the Government of Australia for yet another commitment to ensure people can pick up their lives and live without fear from UXO."
UNDP's engagement in the UXO sector is guided by the principle of leaving no one behind and the commitment to achieve national Sustainable Development Goal SDG 18 on Lives Safe from UXO.
For more information, please contact:
Ms. Ildiko Hamos-Sohlo
Communications Specialist, UNDP Lao PDR
Tel: 020 7717 7913, Email: ildiko.hamos@one.un.org

Mr. Somlith Khounpaseuth
Communications Associate, UNDP Lao PDR
Tel: 20 777 118 74, Email: somlith.khounpaseuth@undp.org