The Man Behind World Heritage in Laos
Thongsa Sayavongkhamdy
PhD candidate on Archaeology
under Australia Awards, 1994
Australian trained Thongsa Sayavongkhamdy is an archaeologist and civil servant who has spent his life devoted to protecting and preserving the cultural and historic treasure of Laos. He led the way for the recognition of Luang Prabang and Vat Phou Champasack on the World Heritage List. Meanwhile, his work on the Plain of Jars in Xieng Khouang province is likely to ensure that this important historic site will also be listed.
Born in Tha Khek, after finishing high school he received a French scholarship to study Archaeology and History, followed by a Masters degree majoring in Art History. As a child, Thongsa wanted to be an architect, but the Ministry of Education responsible for scholarships at that time suggested that he study History. Even so, while in France Thongsa managed to include architecture along with his archaeology course. It was during his student days that he realised archaeology also offered fun, excitement and adventure, so he left architecture aside.
On returning to Laos, Thongsa worked in the arts and then became Director of Museums and Archaeology in 1987. Gaining an Australian scholarship, he undertook a PhD in Archaeology at the Australia National University from 1994-1996. His thesis focused on the prehistory of Laos. "I decided to do my doctorate in Australia because I am interested in prehistory - the origin of human society. It's very challenging and I think no one from Laos had ever studied it. I wanted to know and understand how society originated. This is completely different from recorded history," Thongsa remembers.
His work covered three themes - patterns of peopling in the region, phases of social evolution and socio-economic development that eventually led to the emergence of state formation in the territory that is now Laos. "Archaeologically, Laos is a terra incognita or unknown territory. It means no one knows about it or writes about it so I want to do my research on it. My course allowed me to learn more about the prehistory of Southeast Asia, museum curating and particularly management of cultural heritage which was very relevant to my work at that time," Thongsa says.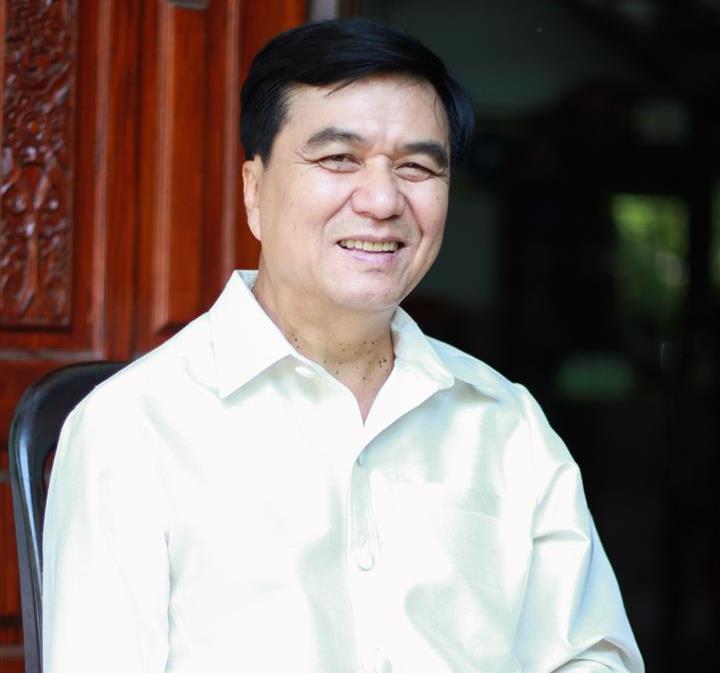 While doing his PhD, Thongsa still worked for his department, as well as the Lao National Commission for UNESCO and the World Heritage Centre of UNESCO. This resulted in an application to place Luang Prabang on the World heritage register. Luang Prabang became the first World Heritage site in Laos in December 1995.
"Many Luang Prabang people at that time disagreed with the World Heritage idea - but later they realised that it has been very beneficial to them and they appreciated it very much," Thongsa recalls. Throughout his work, Thongsa has battled the ignorance of people on preserving antiques and cultural heritage.
Cultural preservation is not without its risks. For example, it took Thongsa a long time and many negotiations to ensure that development allows for cultural preservation. During the renovation of Samsenthai and Setthathirath Roads in Vientiane, construction work uncovered many antiquities and artefacts. His team found about 300,000 pieces of antiques which now are kept in the National Museum. "The origin and history of the Lao people are buried under the ground, but if we don't excavate or search for it how will we, the Lao people know where we are from, or how civilised we are. The artifacts could have been destroyed by road construction, dam construction, mining, natural disaster and time," Thongsa explains.
When asked how he knew where the antiques were, he says proudly "I have my own way. We found the antiques in 20 holes out of the 22 holes we excavated."
In 2010, he became a Director of the Department of National Heritage, Ministry of Information, Culture and Tourism. Thongsa was responsible for the Law on Lao National Heritage, a Decree on Heritage Management in Laos, and legislation on cultural heritage in Laos. He also trained staff at the Ministry and from other provinces on excavation and survey techniques.
At international level, Thongsa has played an important part in ensuring Laos is a signatory to the UNESCO Convention on World Cultural Heritage, the Convention on Cultural Diversity and Expression and in future the Convention on Intangible Cultural Heritage. Thongsa's international expertise is recognised by his United Nations and Australian counterparts as well as those in Japan, where he has been a visiting professor at Kyoto University.
As a family man, Thongsa takes pride in the achievements of his three children, Vichit, Saybandith and Suthida, who have all taken after their father and studied in Australia on scholarships.
Thongsa took leave from his government positions following a stroke in 2012, however after rehabilitation and recovery, he still provides advice to the Minister. "I like archaeology because we look back on our past to see the future. We have to understand our past so we understand our present and to have a vision."