Launch of MPI-Australia partnership for public investment monitoring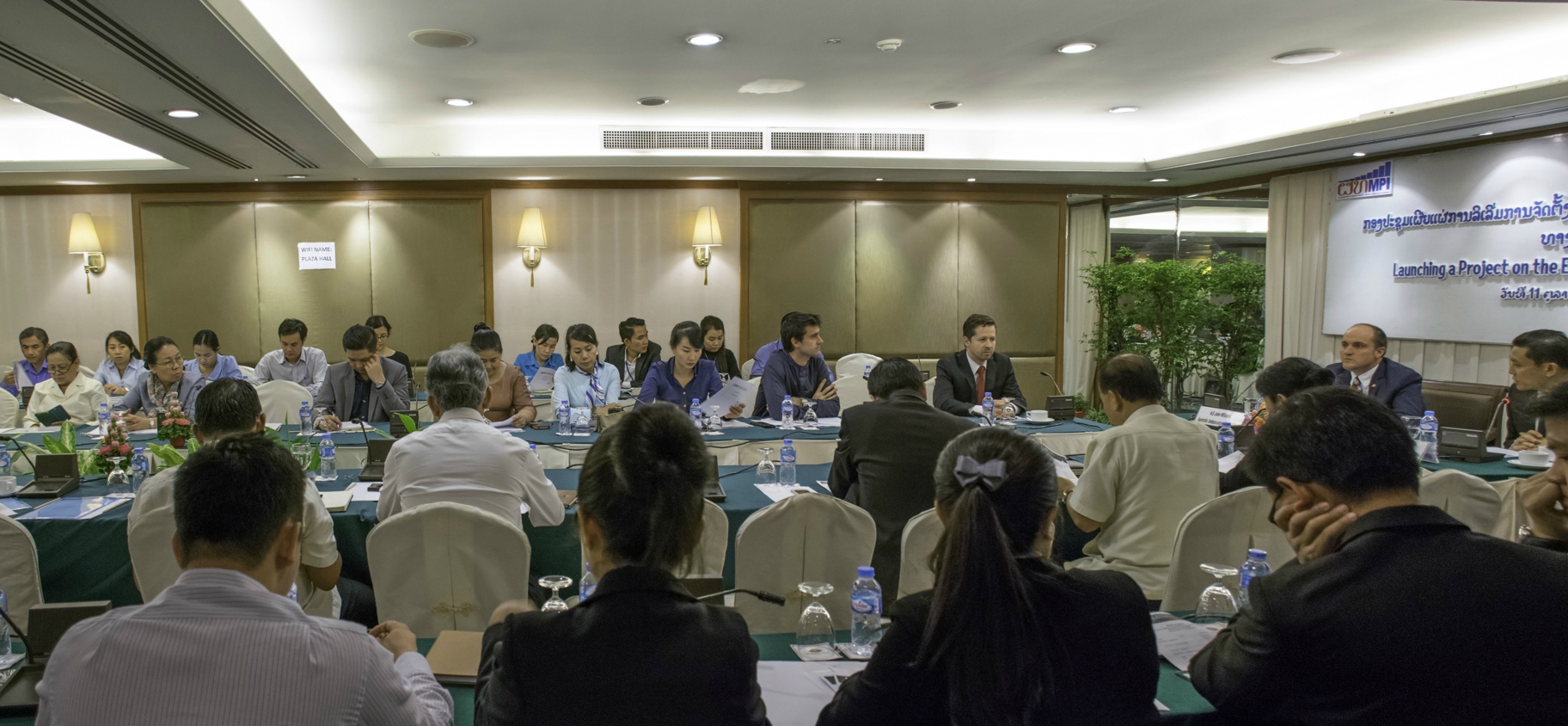 Vice Minister of MPI Dr Kikeo Chanthaboury and Australian Ambassador to Lao PDR Mr John Williams launched a new partnership for public investment monitoring on Tuesday, October 11th. Delivered through the MPI Department of International Cooperation and the Laos Australia Development Learning Facility, the partnership will develop and use a new public investment monitoring system. It is planned to continue to June 2020.
Vice Minister Kikeo said, "ODA makes an essential contribution to the development of Lao PDR. To track our performance during implementation of the 8th NSEDP we need quality and timely public investment monitoring information. This partnership with Australia will start with development of a better monitoring system for ODA in Laos. MPI will use this system with is development partners to ensure that ODA is used effectively, achieves its goals, and is sustainable in Laos."
Ambassador Williams reflected on Australia's long-term partnership with Laos and the productive relationship with MPI. "Knowing where ODA is being used, how it is being used and who is using it helps the Government of Laos manage investment to deliver sustainable development", he said.
Bilateral cooperation contributes more than 60% of total development cooperation – amounting to USD887 million in the period 2011-2015. Around 25% of total government revenue was sourced from grants during this period. In the period 2016-2020, the government plans to invest USD29 billion in the development fund, sourced from: Public investment – comprising government budget (9-11%) and ODA (15-17%); Foreign direct and other private sector investment – 55-57%; and Bank credit – 17-19%.
Development of the public investment monitoring system has three targets for 2016/17: (1) an ODA monitoring system; (2) new or revised regulations; and (3) capacity building to strengthen MPI practice. The work will start with MPI and include inputs from other government agencies (including MoFA, MoF and MoHA at central level; line ministries such as MoES, MAF, MoPWT and MoH and three selected provinces will participate in pilot use of monitoring forms and tools.
Following successful application of the system for ODA, it will be extended to other public investment from the government budget.

Press contacts:
Australian Embassy:

Khounkham Douangphachone

Senior Media and Communications Officer

Australian Embassy, Vientiane, Lao PDR

M: 020 2223 8299

E:Khounkham.Douangphachone@dfat.gov.au

LADLF:

John Fargher

Director, LADLF

Vientiane, Lao PDR

M: 02078644555

E: john.fargher@ladlf.com

MPI – DIC:

Kouthong Sommala

Director, Asia Pacific Division, Department of International Cooperation

M: 020 55019942

E: ksommala@gmail.com