Laos and Australia review development progress
June 30 2017
The Lao PDR-Australia Portfolio Review Meeting was held on 30 June to discuss progress of Lao-Australian development cooperation. In 2016-17, Australia provided AUD40.7 million in Official Development Assistance to the Lao PDR, and this will increase to AUD42.3 million in 2017-18.
The meeting was chaired by Dr Kikeo Chanthaboury, Deputy Minister of Planning and Investment and Mr Andreas Zurbrugg, Charge' d'Affaires a.i. of the Australian Embassy. The meeting was attended by representatives from counterpart ministries including Ministry of Planning and Investment, Ministry of Foreign Affairs, Ministry of Finance, Ministry of Education and Sports, Ministry of Labour and Social Welfare, Ministry of Home Affairs, Ministry of Industry and Commerce, Ministry of Natural Resources and Environment, Ministry of Agriculture and Forestry, the Lao National Chamber of Commerce and Industry, UXO Lao and the Bank of Laos.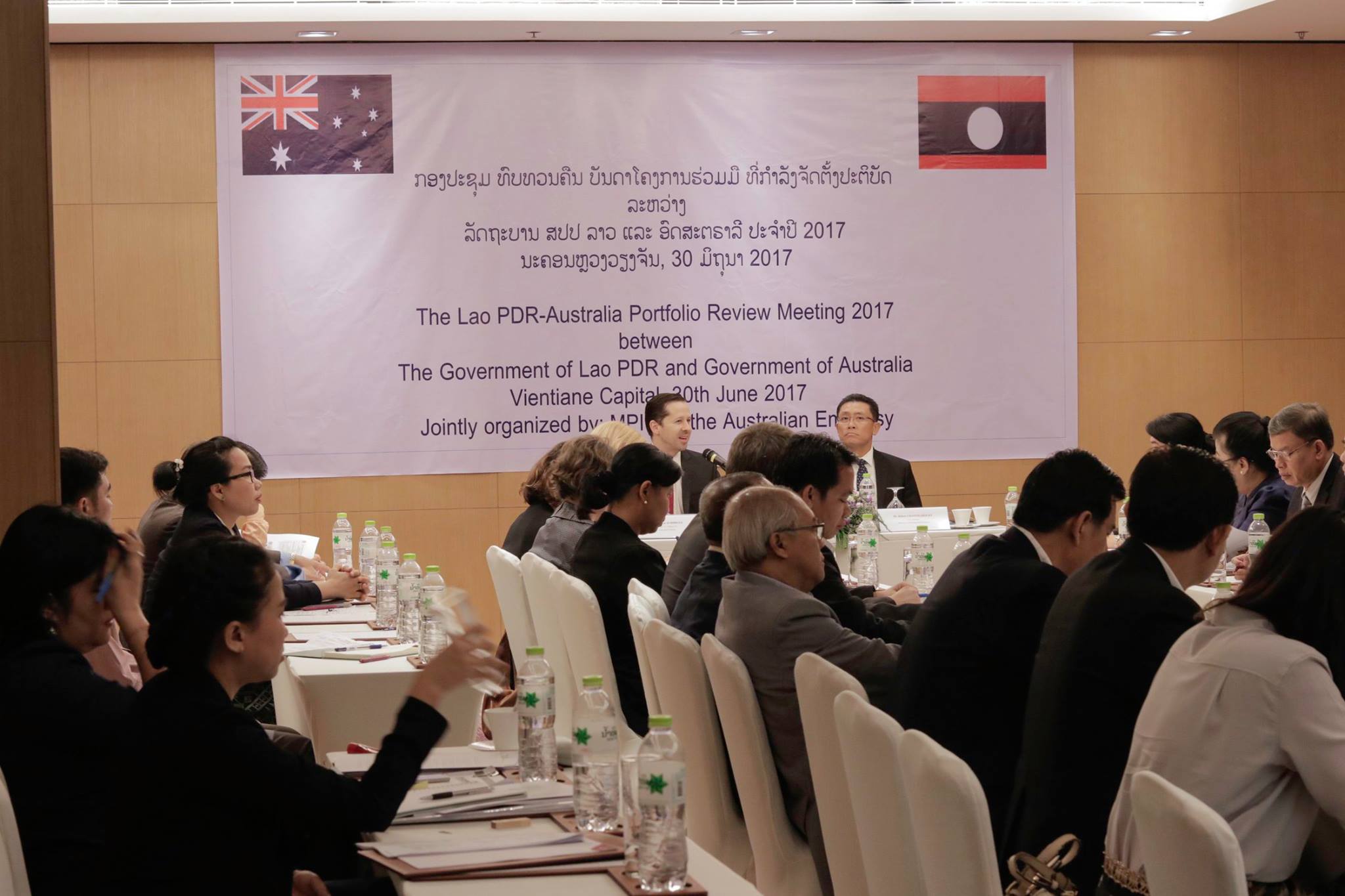 Australia's development cooperation program in the Lao PDR is guided by an Aid Investment Plan (2015-20), agreed by both governments in late 2015. Australian bilateral assistance focusses on three key sectors: basic education; human resource development; and trade and private sector development. Lao PDR receives support from a number of Australian government agencies, including over AUD5 million from the Australian Centre for International Agricultural Research (ACIAR) to support agricultural research partnerships between Australia and Lao PDR. Australia also provides around AUD5 million to Lao PDR through Australia's Regional ASEAN and Mekong Program, which includes support to assist Lao PDR to sustainably manage its significant water resources.
The meeting reviewed progress across the Lao PDR-Australia development cooperation program and discussed key challenges and opportunities for program implementation. Both sides committed to work collaboratively to achieve the best development outcome.
Deputy Minister Kikeo said Australia's development assistance contributes significantly to implementation of Laos' 8th National Socio-Economic Development Plan. Each year, Australia had disbursed funds higher than planned, which supported Lao PDR to achieve its goal of graduating from LDC status by 2020. Australia had provided development assistance to Lao PDR for over 60 years, and funded such projects as the first Friendship Bridge between Lao PDR and Thailand and the provision of over 1200 scholarships for Lao students to study in Australia.
"Australia's development cooperation program closely aligns with Lao Government priorities, and helps improve education outcomes, build human resource capacity and foster economic reforms" he said.
Charge' d'Affaires a.i. said this year Australia and Lao PDR were celebrating 65 years of diplomatic relations and development cooperation had been an important dimension of the bilateral relationship. The focus on education and economic reform aligned with the priorities of both Australia and the Lao PDR. Australia was proud of its longstanding support for basic education in Lao PDR which is focused on improving teacher training, classroom infrastructure and curriculum and building the capacity of the Ministry of Education and Sports.
"Australia's aid investments in Lao PDR are some of our best performing in the region. Australia is committed to working with the Lao Government to achieve the objectives of the Aid Investment Plan and ensure they deliver tangible results for the people of this country" he said.
Media Contacts:
Australian Embassy:

Khounkham Douangphachone

Media and Communications Officer

Phone: 021 353 800 ext. 125