JOINT MEDIA RELEASE
For release on 29 February 2016
Australia's New Colombo Plan supports James Cook University and Lao Archaeologist as they Unlock Lao History
A second year of excavation by a Lao and international team of archaeologists at Ban Vieng, Xieng Khouang Province, has extended evidence of occupation as far back as 3000 years or more.
The team of students and archaeologists from the Lao Department of National Heritage (DNH) of the Ministry of Information, Culture and Tourism, the National University of Laos (NUoL) and James Cook University in Australia identified 41 'special' artefacts amongst a much larger collection of finds. These include fragments of porcelain and distinctive tobacco smoking pipes that will tell us much about the trade and cultural relationships of Xieng Khouang people in the past. The artefacts came from nine 2x2 metre excavation pits (36 square metres). The deepest pits extended to about 1.5 metres.
Dr Nigel Chang of James Cook University said "We think, at this stage, that most of our finds date to the Lane Xang period, probably from the 17th century. However, a few artefacts suggest much earlier occupation of the site, including some pottery that may date to the Iron Age (about 2000 years ago) and a large stone adze that may date to 3000 or more years ago."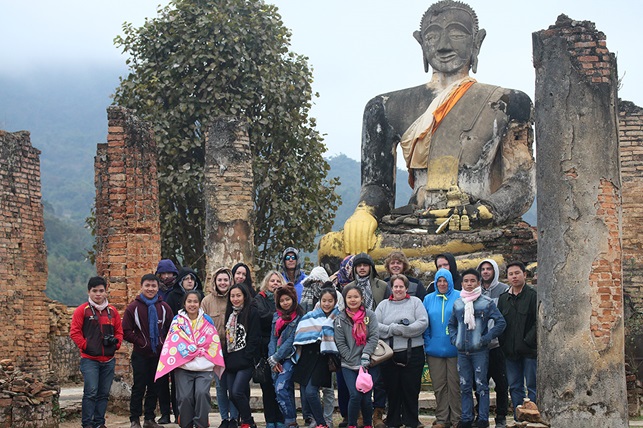 The ultimate objective of the project is to look for Iron Age occupation sites that date to a similar period as the famous Plain of Jars sites and shed light on how the creators of the stone jars lived. According to Dr Chang, the team very much enjoyed working again with the community at Ban Vieng and benefitted from support from the province and central authorities. The research took place as part of a Field School Archaeological Excavation Project at Ban Vieng Temple, Xieng Khouang Province. The Field School is headed by James Cook University and the Ministry of Information, Culture and Tourism.
The team consists of Lao Government archaeologists, staff and students from James Cook University, who are volunteering their time as a teaching and international collaboration exercise, and their counterparts at NUoL. The field school project was underwritten by a grant from the Australian Government's New Colombo Plan scheme. Crucial logistical and financial support was also provided by Phu Bia Mining, as part of its support to Xieng Khouang Province. The New Colombo Plan is aimed at encouraging greater understanding between Australia and Laos. In this particular project, Lao and Australian students (along with DNH and other Lao participants) have been able to learn together, not only about archaeology and prehistory, but also about culture and language.
James Cook University identifies as being located both physically and philosophically in the tropics and has a strategy of "creating a brighter future for life in the tropics world-wide through graduates and discoveries that make a difference."
ENDS
For further information please contact:
Keoleuthsamay Thammalangsy Phomvihane Thiepphougphane
Senior Communications Advisor Senior Communications Officer
Tel: 020 268 000 Tel: 021 268 000
Email: keoleutsamay.thammalangsy@pbm.panaust.com Email: Phomvihane.Thiepphougphane@pbm.panaust.com