Celebrating 65 years of Laos-Australia relations
The Australian Embassy last night conferred five '65th anniversary awards' to recognise outstanding contributions to Laos-Australia relations at its National Day reception in Vientiane.
The reception, which this year also marked the 65th anniversary of diplomatic relations between Australia and the Lao PDR, was attended by around 400 guests from the Lao Government, business community, civil society, academia, media and representatives of the diplomatic corps.
Foreign Minister Saleumxay Kommasith, who completed a Masters Degree at Monash University under an Australia Awards scholarship, attended as the Guest of Honour, and presented the 65th anniversary awards.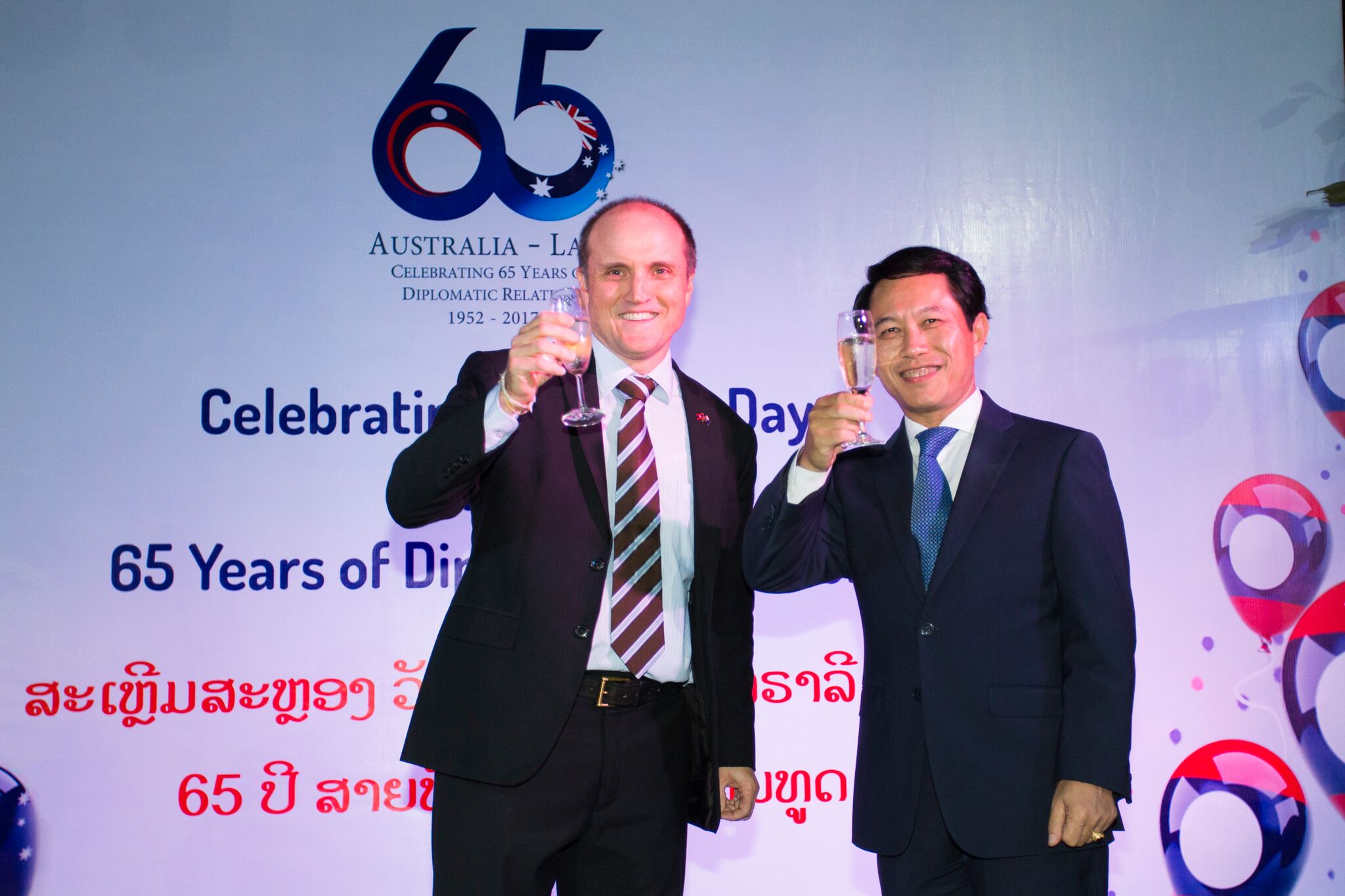 The reception also featured an exhibition of historical photographs to capture important moments in Laos-Australia relations over the past six decades – including the memorable 1993 visit to Australia by then Prime Minister Khamtay Siphandone, and the opening of the first Australian-built Friendship Bridge across the Mekong in 1994.
Australian Ambassador to the Lao PDR, John Williams, said the 65th anniversary awards were intended to personalise Australia-Laos relations, as well as to recognise outstanding achievement.
"The real strength of Laos-Australia relations over the past 65 years is not the architecture put in place by our two governments, but the myriad of positive networks of collaboration between the people of both countries across so many areas of work and life," Williams said.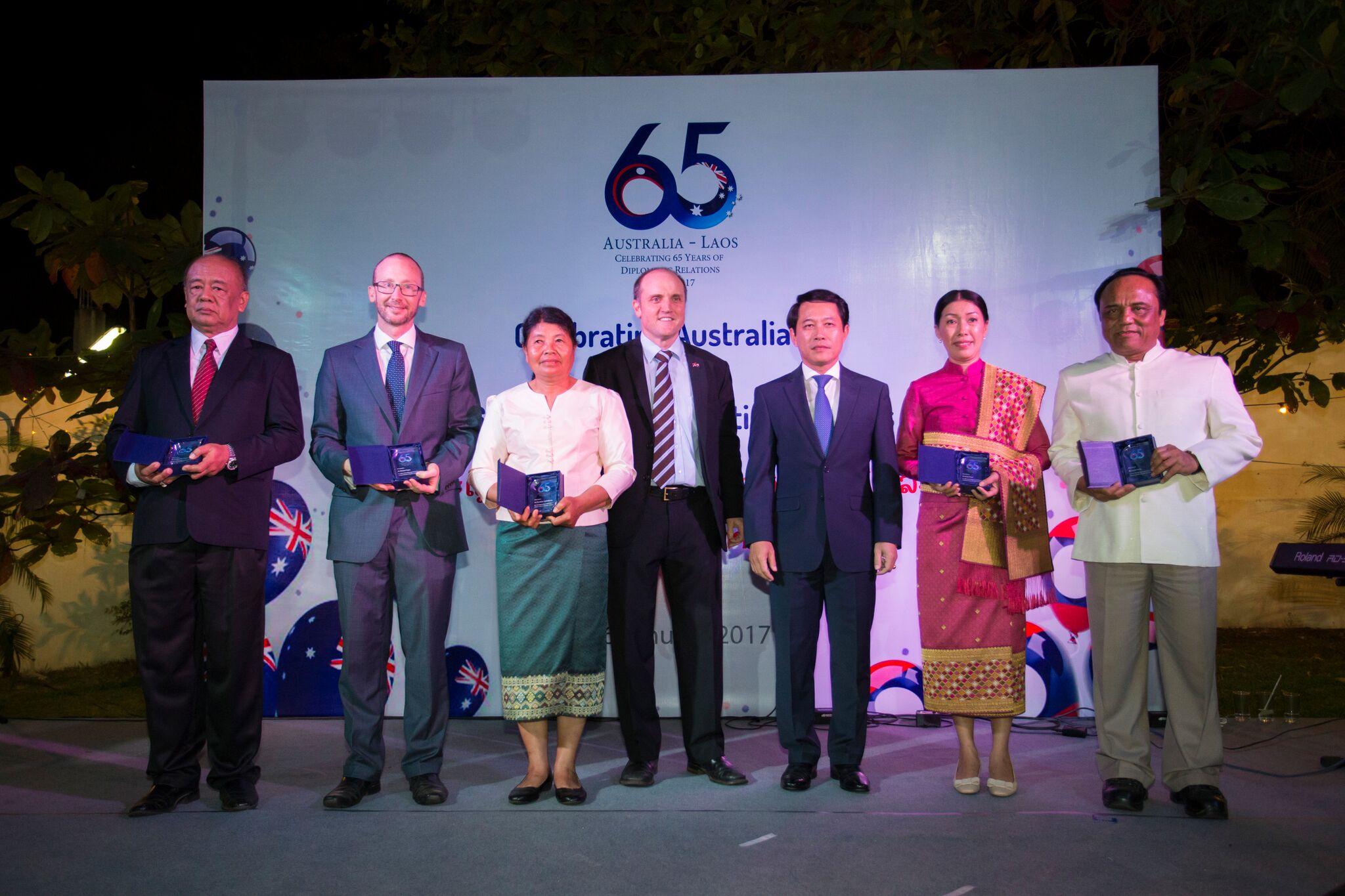 The recipients of the 65th anniversary awards included Phu Bia Mining General Manager, and AustCham Lao founder Richard Taylor, for his contribution to bilateral ties and two-way business connections; Thasano Centre Director Dr Phoudalay Lathvilavong, for her long collaboration with Australian agricultural experts to support small holder farming families in southern Laos; and LNCCI Vice President and leading Lao geologist Saman Aneka, for his contribution to two-way trade and investment.
Mahosot Hospital Director, Prof Bounthapany Bounxoie, received an award on behalf of the entire Interplast Lao program team. Surgical teams from Australian NGO Interplast have, for over two decades, trained local counterparts and helped deliver reconstructive and plastic surgery for burns and other accident victims.
One award was conferred posthumously on the late Dr Grant Evans, a founding father in the field of Lao studies and one of Australia's leading academics on contemporary South-East Asia. Dr Evans passed away in September 2014 after a short battle with cancer. His wife, Keomany, received the award from Minister Saleumxay.
Two senior Lao Government recipients were unable to attend the Australia Day reception, but will receive their awards at separate 65th anniversary events later in the year.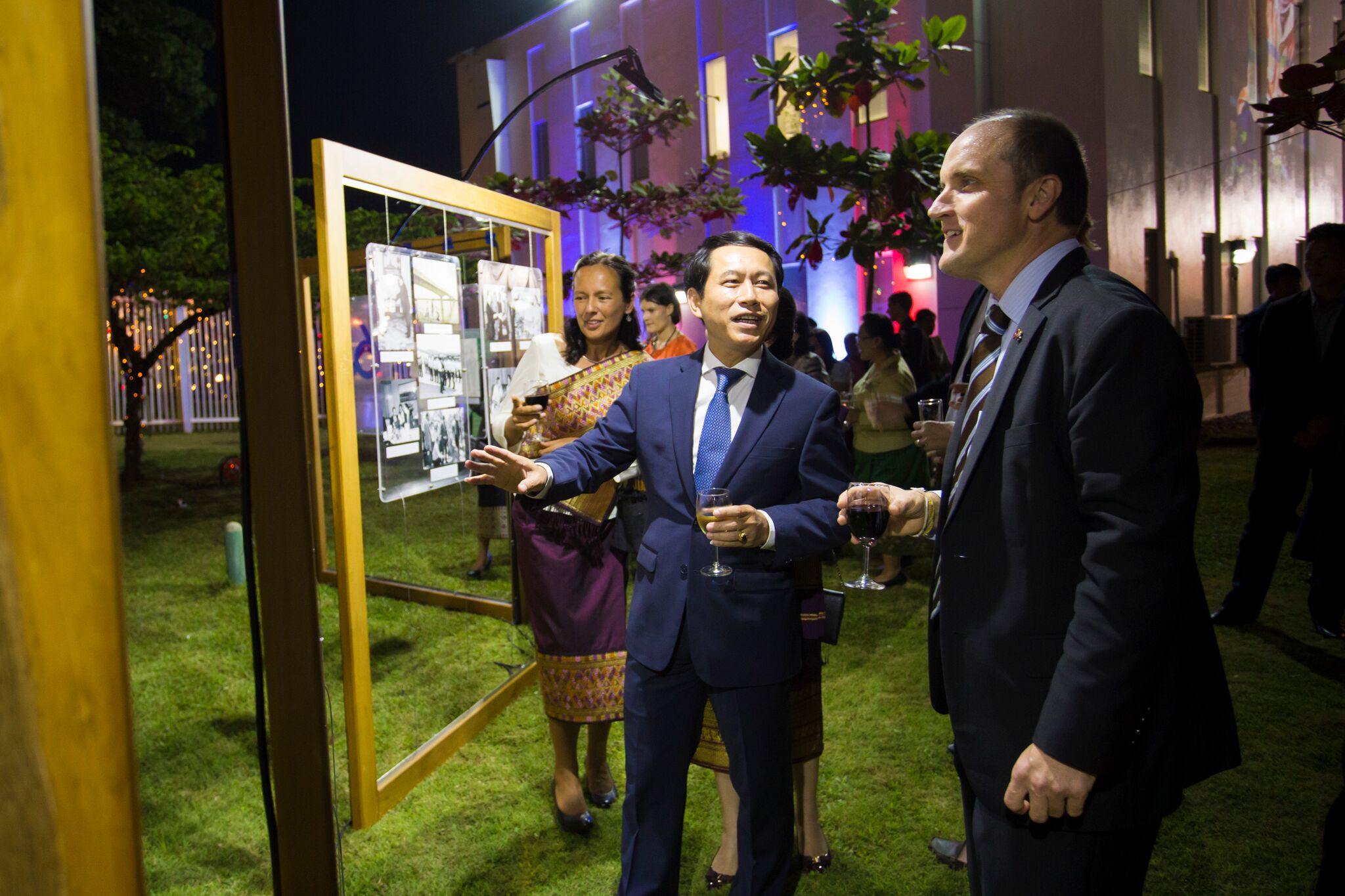 Two of Australia's better known Lao alumni, Volachit Intharaphithak (Sam) and Aluna Thavonesouk, joined Australian band the Sally Marett Trio to entertain guests. This included a duet by Sam and Aluna of the song, 'Australia and Laos, friends forever' which Sam wrote to celebrate the friendship between both countries.
Guests were also treated to Luang Prabang-style kangaroo sausages, as well as Australian beef and lamb, wine, cheese and beer, and famous Australian deserts, including pavlova and lamingtons.
Laos' relationship with Australia is the country's longest unbroken diplomatic relationship at Ambassador level.
Australia remains one of the Lao PDR's main development partners, with Australia's programs focusing on education and human resource development, trade and business reform, rural development and agriculture, and natural resource management.
For further information, or queries please contact:
Khounkham Douangphachone, Media and Communications Officer
Email: Khounkham.Douangphachone@dfat.gov.au or mobile: +856 20 2223 8299