Australian mindset leads to business success
Thepphasone Xaixana
Bachelor of International Business,
Swinburne University
With the life experiences and knowledge gained while studying Bachelor degree of International Business at Swinburne University in Melbourne under an Australia Awards Scholarship from 1997 to 2000, Thepphasone Xaixana (Touk), a successful woman entrepreneur, runs New Link Lao, distributing Revlon, Vitamilk (soy milk) and Glico Pocky. Her three businesses employ more than 70 people in Laos, including many young ones who do not have opportunity to continue to higher education.
Her business in Laos started 11 years ago and has not only helped a number of young people–especially women–improve their incomes but also build their self-esteem and enhance their social skills. Phet A Ly is just one of them. 10 years ago, Phet was unable to further her education at university due to a lack of budget. With a passion for cosmetics, she decided to join Touk's company 10 years ago and now is a Revlon Counter Supervisor. "I am so happy to work with Touk and Revlon here. My work has given me a lot of skills and knowledge related to makeup, sales, marketing, customer service and communication. I have become a more independent, confident and responsible person," Phet said. With this job, she can also help her siblings take care of their parents.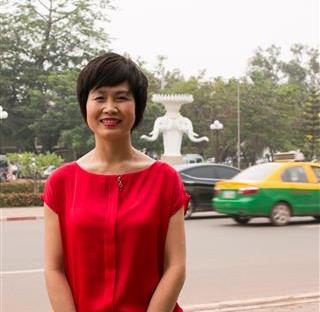 Touk's Revlon business is also open to anyone who is passionate about cosmetics, including lady-boys who are not commonly accepted in Lao society but welcomed by Touk, who believes they should not be excluded. "Here we have employed some lady-boys and gay men. I believe there are no other places that could offer them a proper job like us unless they have higher education," Touk said.
While studying in Australia, Touk worked part time for a skate shop in Melbourne. This allowed her to interact with Australian and Asian customers and now uses these techniques in her current business. "I have applied the service mentality that 'the 'customer is always right' and transferred the team work spirit from the roller blade shop directly into what I am doing now," Touk said. As a distributor, Touk works non-stop to keep things going all the time. She has now expanded her business by joining Maikham, a Lao silk weaving factory, as a business partner. She aims to see Maikham expand internationally and make Lao silk well-known worldwide because she believes in Lao craftsmanship. "It's a big dream and it's a dream that we have been executing day-by-day with my business partner who has the plan laid out while I am going to help expanding and promoting it."
More than her academic achievement, the Australian Award Scholarship offered Touk a rewarding life experience. "What I gained from Australia would be my confidence, my problem solving, never stop working; a kind of responsibility mindset that I learnt from my Australian studies," Touk added.