Australia expands support to end violence against women and girls
22 March 2017
Australia's Ambassador to the Lao PDR today announced an expansion of its partnership with CARE and the Lao Women's Union to challenge attitudes and raise awareness of the problem of violence against women and girls.
The expansion of the 'Standing Up, Speaking Out' – or SUSO – program from Vientiane to Phongsaly and Sekong, will empower men and women, including community leaders, to take action to prevent and respond to violence against women in their communities.
Over 30 per cent of women in the Lao PDR have experienced physical, sexual or emotional violence in their lifetime, according to a 2014 National Study on Women's Health and Life Experiences.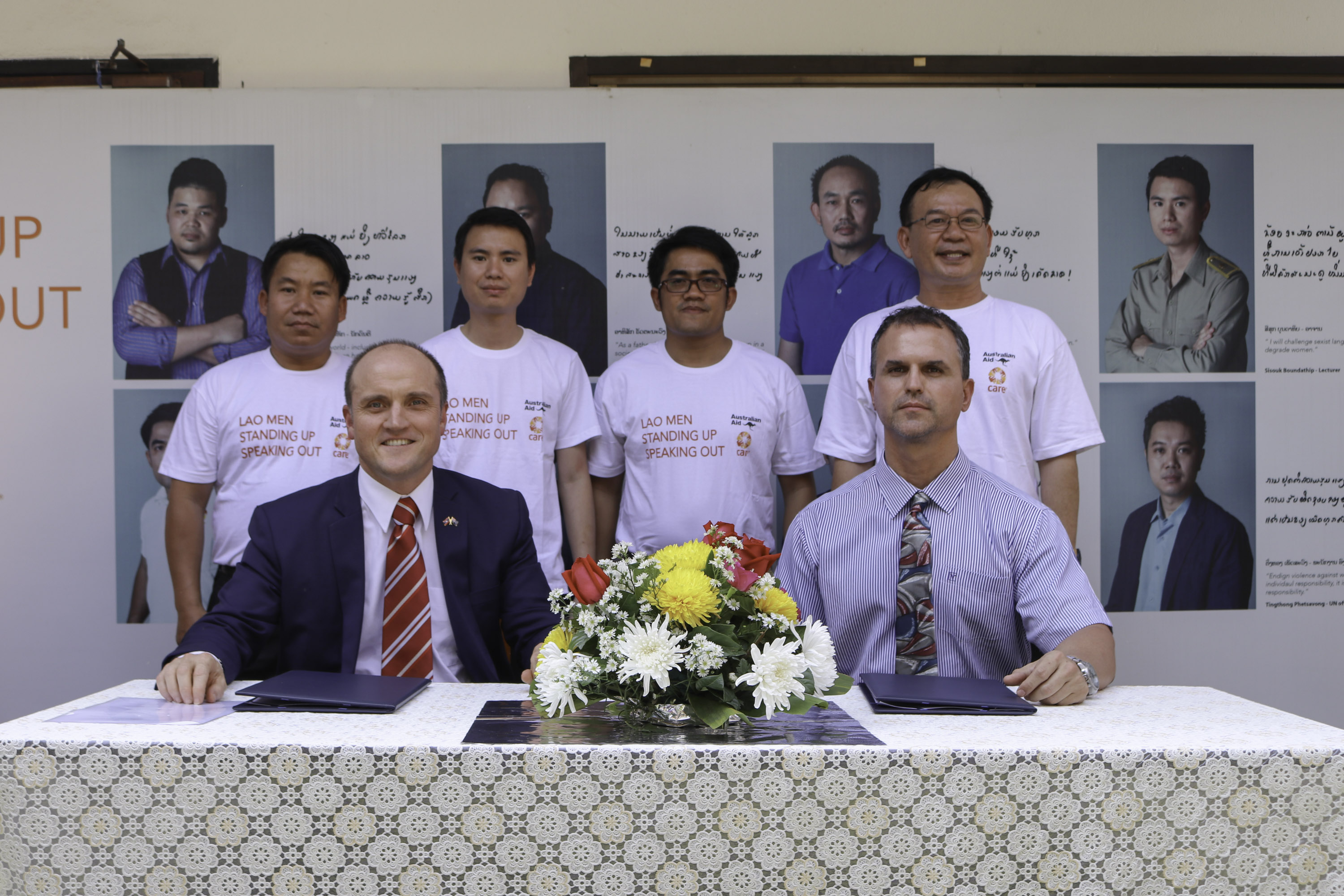 The study showed a big part of the problem is attitudes. Around 58 per cent of the women and 49 per cent of the men surveyed believed violence against women was justified if they did not adhere to traditional gender norms and relations.
Over the past two years, SUSO has provided a platform for 10 male advocates to publicly challenge attitudes and behaviours which disadvantage women.
These Lao men, or 'SUSO champions', including popular musician Volachith Intharaphithak (Sam), INGO worker Thome Xaisongkham and UN staffer Tingthong Phetsavong, have produced video messages, participated in public events and spoken out to challenge traditional gender norms.
Ambassador Williams said violence against women was a symptom of gender inequality, and took many forms.
"But underlying the problem of domestic violence is the idea that women and girls do not have the same importance and rights as men and boys," Williams said.
"We must all address [this challenge] in our everyday lives and actions. We must stop tolerating poor behaviour by men and boys. We must also make sure our sons respect girls as their equals, and that our daughters realise being a woman does not limit their potential."
Randal Rhoade, the Acting Country Director of CARE, highlighted the vital role played by men in any effort to end violence against women and girls.
"To end violence against women and girls, we need men to play an important role as agents of change, to take action and to be part of the solution to stop gender based violence," Mr Rhoade said.
"We need people, and men in particular, to stand up and speak out to end the violence and abuse of women and girls in the Lao PDR."
The launch event took place at CARE's office in Vientiane, and was attended by SUSO champions and representatives from the Lao Women's Union and the Lao Federation of Trade Unions.
Media Contact:
Khounkham Douangphachone, Senior Media Officer at the Australian Embassy. Ph: 021 353800 x125, Em: Khounkham.douangphachone@dfat.gov.au
Viengsavath Vilaythong, Communications Manager, CARE International in Lao PDR. Ph: +856 21 5549 7797, Em: viengsavath.vilaythong@careint.org