Australia Welcomes Lao PDR's ASEAN Chair Priorities
On a 23-25 February visit to Vientiane, Australia's Ambassador to ASEAN welcomed Laos' priorities as ASEAN Chair in 2016, and reiterated Australia's commitment to assist in their implementation.
Ambassador Simon Merrifield, who is based in Jakarta, said Australia, as a strategic partner of ASEAN, considers it very important to engage closely with the ASEAN Chair to explore ways to contribute to ASEAN's priorities over the year.
"It's a great pleasure to be back in Vientiane on my third visit as Australia's Ambassador to ASEAN," Merrifield said. "I have had excellent meetings with Lao officials, including Vice Foreign Minister Alounkeo Khittikoun, and comprehensive read outs on what the Lao PDR wants to achieve as Chair this year."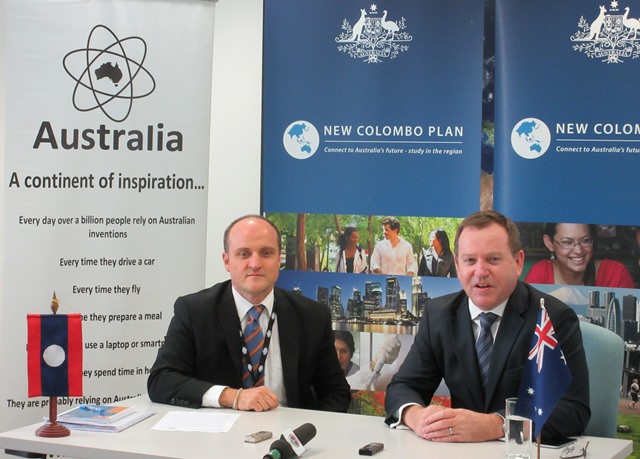 "I am delighted to note Australia is already involved in assisting on some of the key priorities, including on the connectivity agenda and the Initiative for ASEAN Integration, as well as SME, tourism and financial inclusion issues. We are closely focused on helping the Lao PDR deliver very successful outcomes in 2016," he said.
Ambassador Merrifield said the Lao government had a very big job as Chair not only of ASEAN, but of other ASEAN-led processes including, for example, the East Asia Summit, of which Australia is a member.
"The EAS commemorated its tenth anniversary last year in Kuala Lumpur, which included a reaffirmation of the EAS's role as the premier leaders forum for dealing with key regional security, political and economic issues," Merrifield said.
"It also established some measures to further strengthen the EAS, and Australia looks forward to working with Laos as Chair to advance those objectives."
"In this, I will be working closely with my colleague, Ambassador Latsamy, Laos' Permanent Representative to ASEAN in Jakarta."
Ambassador Merrifield said Australia, ASEAN's first dialogue partner, worked very closely with Lao officials in ASEAN-led regional forums.
"We do that on the back of our strong bilateral relationship, with both countries set to celebrate 65 years of bilateral ties in 2017."
"We're proud to have supported the Lao PDR's socio-economic development so closely over the past five decades."
"Australia is committed to continuing our support for regional economic integration - building on our contribution of the first friendship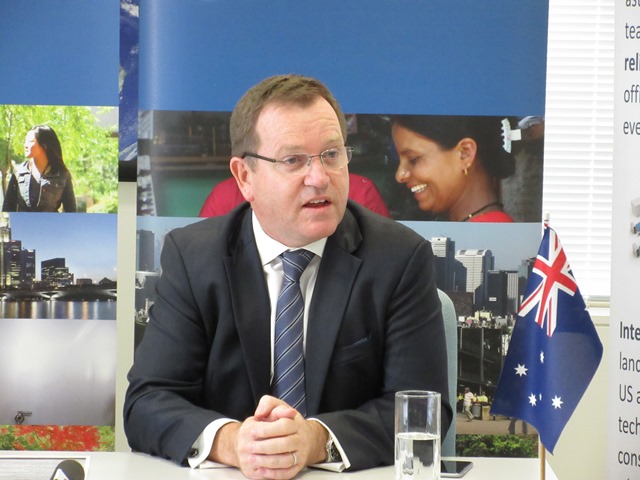 bridge over the Mekong back in 1994, one of the first building blocks towards greater regional connectivity," he said.
"Australia values our standing as a constructive voice on regional affairs, and looks forward to supporting Laos to achieve further progress on the ASEAN community in 2016," Merrifield said.
"A prosperous, peaceful and increasingly integrated south-East Asia is very positive for Australia, as a friend and neighbour."