Australia-Lao Plain of Jars Collaboration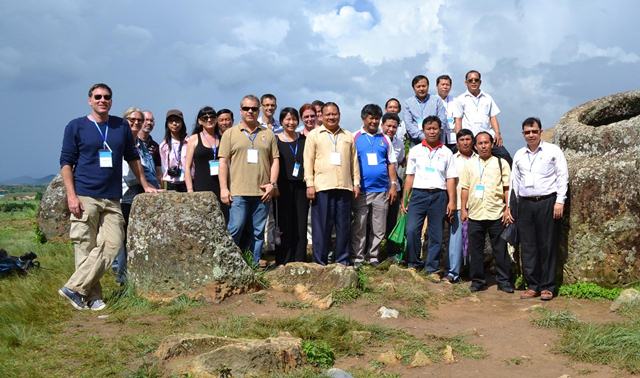 Lao delegates together with Australian researchers and UNESCO representatives attending "The Plain of Jars: World Heritage Status Realized" meeting funded by the Australian Commission for UNESCO.

A new 5-year collaborative project between Lao and Australian researchers hopes to unlock more of the secrets behind the Plain of Jars, and help inform Lao Government deliberations on a possible UNESCO World Heritage nomination for the internationally-acclaimed site.
An Australian expert research team, in cooperation with the Lao Ministry of Information, Culture and Tourism (MoICT), is preparing an extensive field survey at the Plain of Jars site in Xieng Khouang province.
The archaeological research will contribute to the final process of the site's United Nations Educational, Scientific and Cultural Organisation (UNESCO) World Heritage nomination.
In July 2013, Australian researchers Dr Dougald O'Reilly and Dr Louise Shewan, arranged a high-level meeting in Vientiane to reinvigorate the nomination process, funded by the Australian Commission to UNESCO. The participants included Lao officials, UNESCO and heritage experts.
The international multi-disciplinary collaborative research team will work alongside Lao experts on the 'Unraveling the Mystery of the Plain of Jars' project from 2015-19.The project will include a range of work, including archaeology, bio-geochemistry, bio-archaeology, geology, radiocarbon dating, remote sensing and spatial analysis.
Mr Viengkeo Souksavatdy, Deputy Director, Department of National Heritage (DNH), said the Lao PDR would gain extensive long-term benefits from the collaboration with Australia.
"The project will help stimulate the process of becoming a UNESCO World Heritage nominee," Mr Viengkeo said. "Lao researchers and students will benefit from fieldwork experience, familiarity with cutting-edge technologies, and communication of research results."
The team will excavate sites including Site 52 located near Ban Pakeo and Site 1 or Ban Ang close to Ban Na O.
Australian Ambassador to the Lao PDR, John Williams, said the project would involve experienced researchers and advanced technology and innovation from Australia to further investigate the archaeological landscape in the Plain of Jars.
The project directors, Dr O'Reilly and Dr Shewan, said the research project would help expand the archaeological investigation in the Plain of Jars.
"We are very excited about the collaboration between Australian and international researchers, and the Lao government experts," Dr Shewan said.
"We will conduct extensive 3D scanning, digital documentation and visualisation, mapping and archaeological excavation utilising an array of advanced analytical techniques at these sites."
The research team includes experts from the Australian National University in Canberra, Melbourne's Monash University, James Cook University in Townsville, the University of New South Wales in Sydney, and GBG Australia, working together with colleagues from the MoICT.

Media Enquiries:
Mingngakham Pangnasak
Senior Media and Communications Officer
Australian Embassy
Phone: 021 353 800 ext. 125, Mob: 020 2223 8299