Better ways of planting teak
How Australian research improves teak production in Lao PDR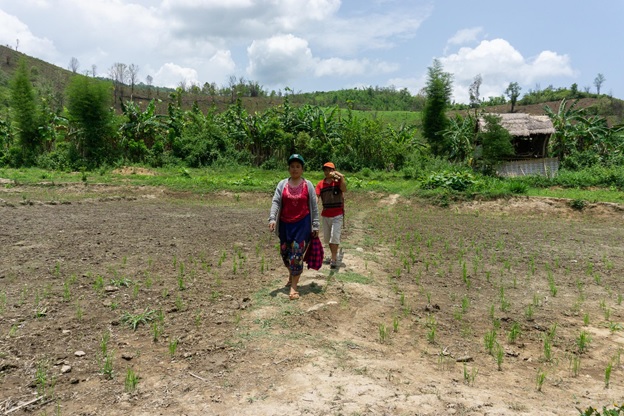 Mrs Thongbai Kayasone and her husband Sombat Latsamy in their combined teak and banana plantation.
Over the past 10 years, researchers from Australia and Lao PDR are collaborating to find the best ways to plant teak for smallholder farmers in northern Laos. Instead of planting for quantity, the farmers and policy makers need to start to plant for quality.
"I decided to plant teak, because I think about our children's' future. I worry because forests are being cut, and the next generation will not have enough wood to build houses with. I can also sell teak trees whenever we are short of money", says Mrs Thongbai Kayaisone.
She and her husband own a small farm in the mountainous landscape of Luang Prabang, one of the northern provinces in Lao PDR. Here, they live off the land she inherited from her parents. They grow rice and have a few chickens and pigs to provide for the two of them and their three children.
Thongbai started to plant teak on her land a couple of years ago, as part of the ACIAR funded research project Teak-based agroforestry systems to enhance and diversify smallholder livelihoods in Luang Prabang province of Lao PDR, led by the University of Queensland, Australia, and implemented with local research institutions in Lao PDR.
The project's objective is - in collaboration with 80 farmers like Thongbai Kayaisone and her husband - to improve the way small teak tree plantations are managed in Lao PDR. The researchers also conduct experiments with agroforestry, where teak is combined with other crops such as banana, cassava and pineapple. These systems allow farmers to earn extra income besides what they eventually can sell their teak trees for.
The uplands of northern Laos is among the poorest in the Southeast Asian region. Many ethnic minorities live in the area were food shortage is high and locals depend on natural resources for survival. Combined agroforestry systems therefore allow farmers to grow crops that they can sell immediately while teak trees take time to grow big enough to sell.
"When my children were small, I didn't have any banana trees in my teak plantation. I was very poor. If I did not sell enough chickens or pigs, I did not have any money to support my children's school fees. Now that I grow banana on the plantation, I do not need to sell my animals anymore. The income from the bananas covers it all', says Thongbai.
Her teak plantation, with approximately three hundred teak trees, is also a growing capital. Or, what could be called 'money in the bank'. Within five to ten years, she can sell the teak logs. Until then, she just has to maintain the land and make sure that the teak trees have the best conditions to grow.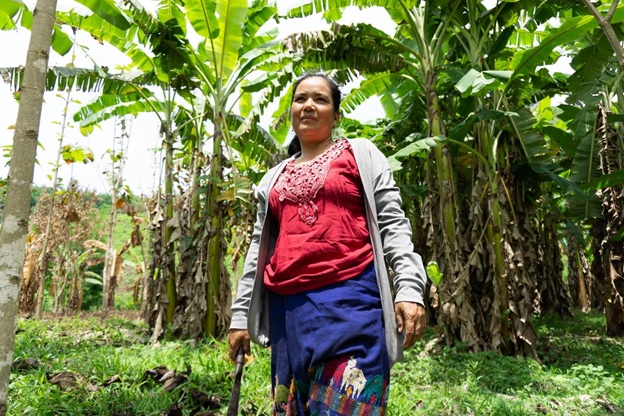 Thongbai Kayaisone in her combined teak and banana plantation
"We are trying to find the best ways to grow teak trees in Laos", says Dr Somphanh Sakanphet, forestry researcher at the Upland Agricultural Research Institute. "The traditional ways of planting teak is to plant the trees with high density - for example three by three meters on a teak-only plantation. This way of planting teak has been recommended to Lao farmers by the government for many years, but it is not the best way to let teak grow. When planted close together, it takes many years for the trees to become mature", he explains.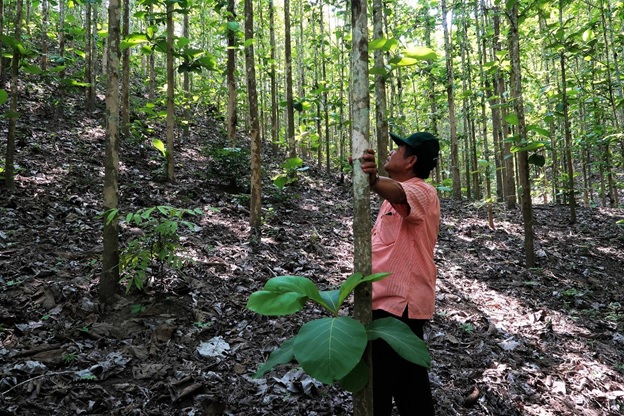 Dr Somphanh Sakanphet in a traditional teak plantation in Luang Prabang.
Dr Anibal Pachas, a postdoctoral researcher from the School of Agriculture and Food Science, University of Queensland, is part of the leading project team. He works in close collaboration with Dr Somphanh Sakanphet and other local partners, carrying out the collaborative research.
"Traditionally, there has been bad management of teak plantations in Laos. Many farmers own teak trees, but because they follow the traditional guidelines, they have to wait at least 15 years before they can sell a tree. That is why we started to research how teak can grow better and faster. Now we recommend farmers to plant less trees and have a combination of different crops on their land", Anibal Pachas explains.
Over the past five years, Anibal Pachas and the rest of the project team have conducted trials with eighty farmers in five district in Luang Prabang province. They experimented with different teak plantations to see in which configuration teak grow best. The trees are planted in four different kinds of configurations and with various crops in between. On Thongbai's land, the teak trees are planted with eight meters distance with banana trees in between. On other farm trial sites, teak is planted with ten, twelve or fourteen meters of distance.
"For smallholders it's very important to improve the management of the teak, because the market of teak is based on the diameter of the log. The bigger the diameter, the more money the farmer will get. If they do not manage their plantation well, they will have to wait a long time before the tree has the right diameter. By thinning their forest and better spacing between trees, teak will grow faster and bigger," says Anibal Pachas.
He adds that next steps include not only building local research capacity and further improving farmers' lives with agroforestry systems, but also to have impact on policy level. The project team have already developed official recommendations to the Lao PDR government, presenting their findings on better ways to plant teak.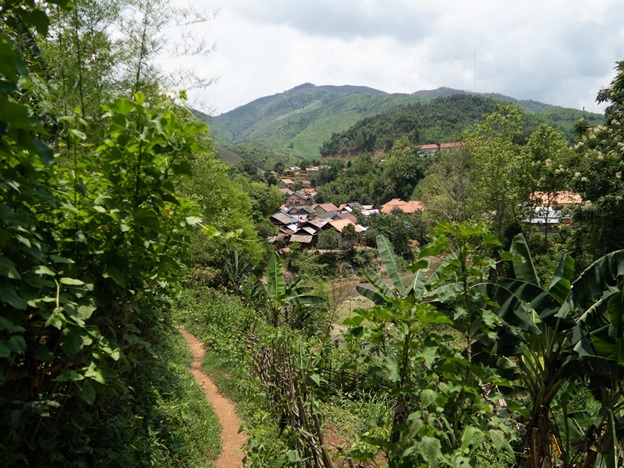 Mrs Thongbai Kayaisone lives in Sobchear village in the mountainous Luang Prabang province with her husband and three children.
Mrs Thongbai Kayaisone now sees her teak growing much faster than before. And she also notices that her neighbors, who were skeptical of the new way of planting teak before, now are start to show interest.
"Before, some of our neighbours would say that we were losing land, because of the big space between the trees. But now some of my neighbors are also interested in the project, especially when they see we get training on how to plant the best quality trees", says Thongbai Kayaisone. She plans to double her teak tree plantation within the coming years.