40 Scholarship Students Bound for Australia
7 Dec 2017

Australia's Ambassador today farewelled the latest 40 high-achieving Lao men and women who have received Australia Awards scholarships to study at Australian universities starting in 2018.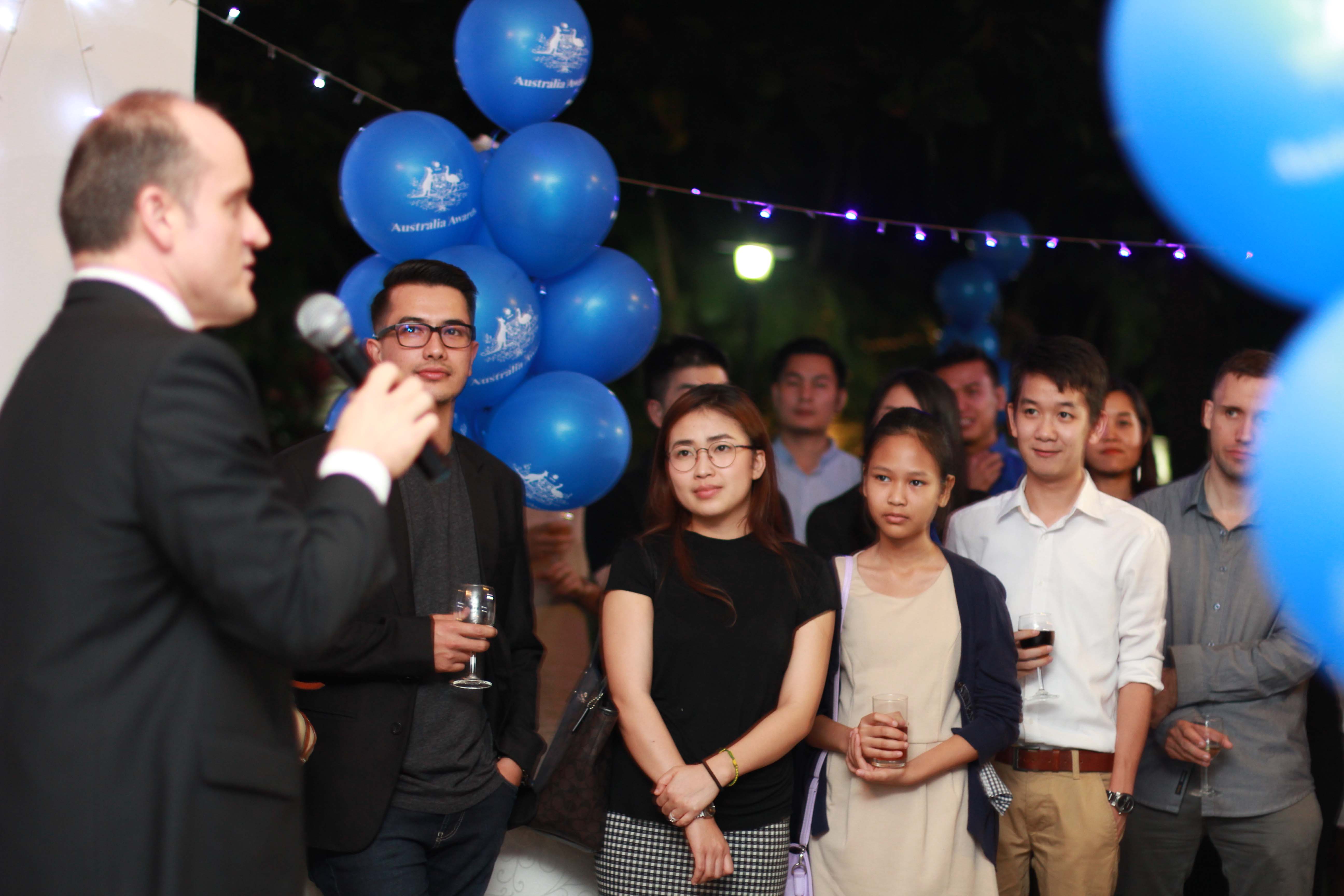 The scholars, who come from the public and private sector and civil society, join a prominent group of over 1,200 Lao citizens who have received scholarships to study in Australia and returned to Laos with world-leading tertiary qualifications.
In his remarks at the Vientiane reception, attended by family members and government officials, Ambassador John Williams said the Australia Awards offered the next generation of Lao leaders an opportunity to develop skills and knowledge, build enduring personal and professional links, and become empowered to influence positive change.
"We know this is a group of highly talented individuals who have proven their academic excellence and passed a highly competitive and rigorous selection process," Mr Williams told the audience. "After a world-class education experience in Australia, I have no doubt these 40 women and men will go on to make a significant contribution to Laos as leaders in their fields."
The departing Australia Awards scholars, the majority of whom will undertake a postgraduate (Masters) qualification, are studying in a range of areas crucial for Laos's development, including finance and banking, IT and geospatial information science, environment and water resource management, human resource management and intellectual property law.
One of the awardees, Mr Ya Xong, will study for a Masters in Electrical Engineering at Flinders University in Adelaide, South Australia. "I so proud to receive an Australia Award that will offer me new skills in both the theoretical and the practical aspects of electronic engineering systems," he said. When he returns to Laos Mr Ya plans to set up an electrical consulting company so he can contribute his knowledge and provide services to improve electrical systems in Laos.
The awardees will depart for Australia between January and June 2018. They have enrolled at different universities and colleges in Adelaide, Melbourne, Canberra, Sydney and Brisbane.
"I am extremely proud that, for over 50 years, Australia has supported the best and brightest to study at Australia's top universities, as part of our commitment to human resource development in the Lao PDR. Many of these people are now helping to shape the country's future," Williams said.
Applications for the 2019 Australia Awards Intake will open in February 2018. Further information about Australia Awards can be found at www.australiaawardslaos.org or www.laosaustraliainstitute.org
Media Contacts: Vannaphone Sitthirath,
Communication Coordinator,
Vannaphone.sitthirath@laosaustraliainstitute.org
Phone: 021 265 721