Australia confers 65th Anniversary Awards
Australia has conferred special bilateral awards on two Lao Ministers at a 27 November dinner in Vientiane to help mark the 65th anniversary of Laos-Australia relations in 2017.
Minister for Education and Sports, H.E. Mme Sengdeuane Lachanthaboun, and Minister for Industry and Commerce, H.E. Mme Khemmani Pholsena, were presented the '65th anniversary awards' to acknowledge their outstanding contributions to Laos-Australia relations in their respective fields.
In presenting the Awards, Australian Ambassador to the Lao PDR, John Williams, said both Ministers had been excellent partners for Australia over many years, through their leadership, commitment and technical expertise in education and in trade and business climate reform.
"Minister Sengdeuane, an alumni of Deakin University in A`ustralia, has been working closely with us for 15 years to help strengthen education outcomes for children across the Lao PDR," Williams said. "Our current basic education program, BEQUAL, is implementing a number of the ideas Mme Sengdeuane pioneered as the head of Teacher Education many years ago."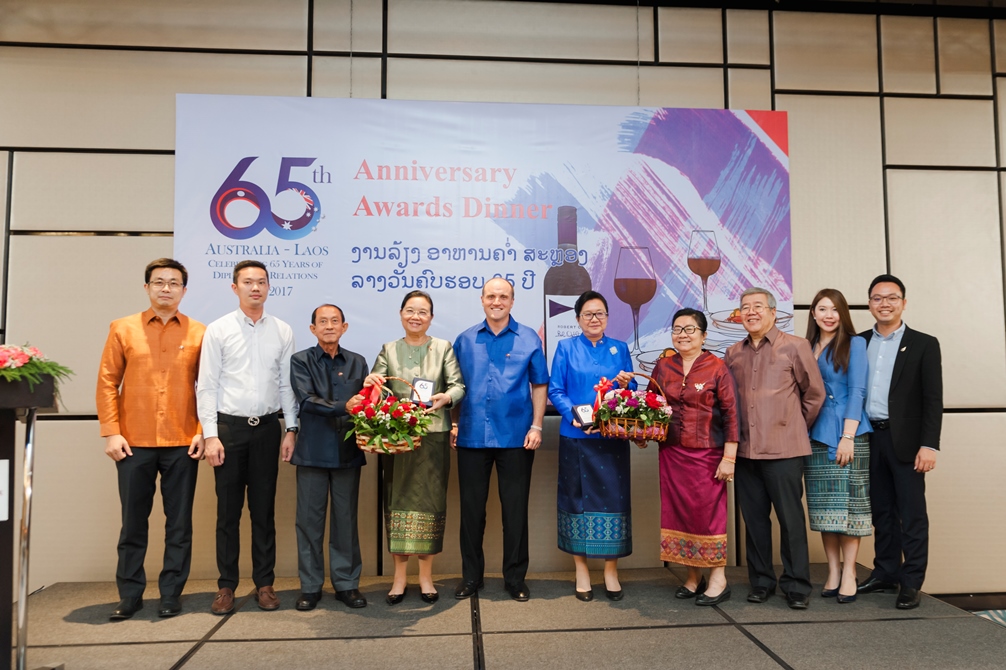 "Madame Khemmani's links with Australia, and our international trade experts in particular, were built up through our close collaboration in support of the Lao PDR's bid for membership of the World Trade Organisation," the Ambassador said.
"The energy and drive the Minister demonstrated at that time, to secure that important benchmark for Laos, has been a feature of our ongoing partnership in support of Laos' trade and business climate reform agenda, and in helping Australian companies navigate the Lao market."
The Ambassador said the 65th anniversary awards not only sought to recognise special individual contributions to bilateral relations, but also to help personalise Laos-Australia ties.
"The real strength of our relationship is not the architecture put in place by our two governments, but the myriad of positive networks of collaboration between the people of our two countries across so many areas of life and work," Williams said.
"We hope by conferring these awards on a select few, we are also honouring the contributions of many individuals and groups to the substantial, productive ties our two countries enjoy today."
The special awards dinner was attended by more than 80 guests from government, business, civil society and the media. They were treated to a special menu of Australian food and wine.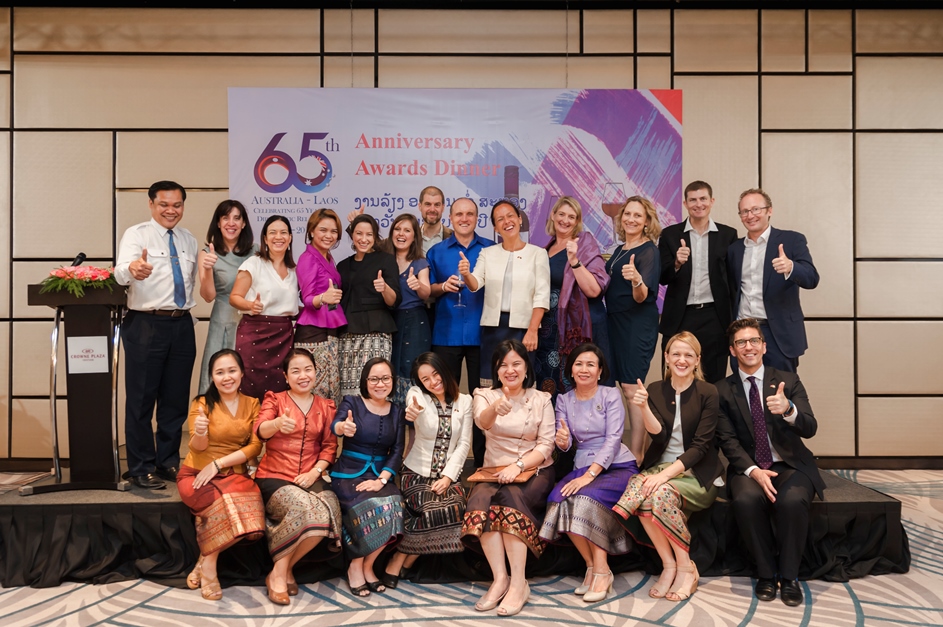 Laos' relationship with Australia is the country's longest unbroken diplomatic relationship at Ambassador level. Australia continues to be one of Laos' main development partners, with support focusing on education and human resource development, trade and business reform, rural development and agriculture, and natural resource management. Quality Australian business investments, most notably in mining and mining services, have had a significant impact on the Lao PDR's fast economic growth of the past two decades.
For further information, please contact: Khounkham Douangphachone, Media and Communications Officer
Email: Khounkham.Douangphachone@dfat.gov.au or mobile: +856 20 2223 8299