Australian Embassy
Lao People's Democratic Republic
Embassy address: Km 4, Thadeua Road, Watnak (P.O. Box 292) Vientiane, Lao P.D.R. Telephone: 021-353800, Facsimile: 021-353801

The Australian Embassy, located in the capital of Vientiane, offers a comprehensive range of services to Australian citizens, administers the Australian development assistance program to Laos, provides advice to Australian businesses, manages the formal bilateral relationship between Australia and Laos and provides a visa service for people in Laos planning to travel to Australia. (Link Travel Advice for Laos)
Disability: focus on ability
On Saturday 26 September, Laos celebrated the National day of People with Disability. The Australian Embassy marked this day by supporting 70 people with visual impairment from across Laos to participate in a range of activities. I would also like to share my personal story that I hope will help promote understanding of people with disability and encourage support for their dignity, rights and well-being.
People with disability are one of the most vulnerable groups in any society. They are often excluded from school, workplace, community and social activities. They can face being laughed at, being talked about in a negative way or receiving sympathy rather than being empowered or encouraged to participate. (More information)
Australia's Minister for Education and Leader of the House attending the 2nd East Asia Summit Education Ministers Meeting in Lao PDR in September 2014
Australian Foreign Minister visiting Lao PDR in July 2014

| | |
| --- | --- |
| | Australia's Ministers for Foreign Affairs and Trade outline the Government's foreign and trade policy agenda and priorities. Click here to watch the video |

Ambassador John Williams' 2015 Australia Day Message. Read more in English / Lao >>
Ambassador John Williams' 2014 Australia Day Message

A father with a disability

Australian Embassy Senior Program Officer, Bounmy Souvannalath, shares a heartfelt and personal story about growing up with a father with a disability. She tells us how she feels inspired by her dad and she encourages people to reconsider how they perceive people with a 'disability'. A great read.Click here to read the article (English / Lao ).

Social Protection in Lao PDR

The Australian Embassy is pleased to share a new report on "Social Protection in Lao PDR: Frameworks, Vulnerabilities, Coping Strategies and Gaps". This report is the synthesis of a comprehensive baseline analysis commissioned by the Laos Australia Development Learning Facility with support from the Social Protection and Sustainable Livelihoods Project supported by the Australian Government, read more

50 new Australian students to study in Lao PDR under New Colombo Plan

An additional 50 young Australians will travel to the Lao PDR next year to undertake short-term study and research under the Australian Government's New Colombo Plan.
The New Colombo Plan is a signature initiative of the Australian Government which aims to lift knowledge of the Indo-Pacific region in Australia by supporting Australian
undergraduates to study and undertake internships in the region (more English/Lao)

18 August 2015, Australian Government deplores the attack in Bangkok

The Australian Government deplores the attack in Bangkok. The thoughts of all Australians are with the injured and the familiesof those who have lost their lives.The Australian Embassy in Bangkok is in contact with Thai authorities to determine whether
Australians have been affected. At this stage we have no information that Australians are among the deceased or seriously injured. Read more

International Skills Development Program field Visits in Laos

As part of the 2015 International Skills Development Program (ISDP), I was fortunate to have the opportunity to travelto Laos to participate in a series of social development and rural protection field visits, board meetings and a mid-termreview the Second Trade Facility Program. This story captures some of the highlights of the Poverty Reduction Fund (PRF) field visits during the first week of this short term mission which occurred Read more >>

24 June, 2015 EMI Smart Kids Saving gains Wall Street accolades

The Smart Kid Saving Product offered by Ekphatthana Microfinance Institution (EMI)
- the first licensed microfinance institution to operate in the Lao PDR after the government issued the microfinance regulations in 2005, has been selected among six finalists in the Wall Street Journal's Financial Inclusion Challenge. Read more >>

24 June, 2015 Rural financial services access to 'BCOME' reality

Banque Pour Le Commerce Exterieur Lao Public (BCEL) is extending its service through a new product "BCOME" which will help provide
poor rural families with greater access to appropriate financial services such as transferring their money . Read more >>

14 June, 2015 Australia provides English language training to Department of Immigration Officials

Officers from the Lao Department of Immigration, Ministry of Public Security, have recently completed a five week elementary English language course at Vientiane College in Lao PDR. Funded by the Australian Government, the training aims to assist with enhancing regional cooperation on migration challenges between Laos and partner countries, including Australia. Read more >>

June 9, 2015 – Cycling for solidarity – CyclePower comes to Laos

In the spirit of friendship and adventure, 12 Australian cyclists will ride from Luang Prabang to Vientiane over seven days for CyclePower, a charity ride promoting understanding of people with disability.

The Australia Awards are prestigious international scholarships funded by the Australian Government offering the next generation of global leaders an opportunity to undertake study, research and professional development in Australia. They are designed to promote knowledge, education links and enduring ties between Australia, its neighbours and the global community.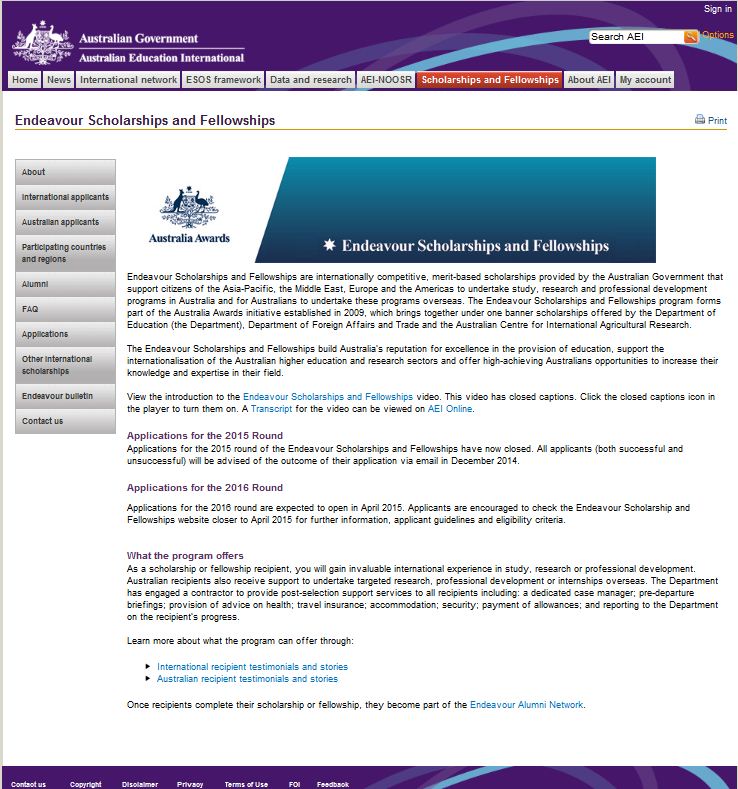 Endeavour Scholarships and Fellowships are the Australian Government's internationally competitive, merit-based scholarships, providing opportunities to undertake study, research and professional development in Australia.

Australians living in Laos or visiting Laos are encouraged to register on-line or complete a registration form at the Embassy. Registrations can be amended by contacting the Embassy via email at austemb.laos@dfat.gov.au.
Quick link: