The Australian Embassy, located in the capital of Vientiane, offers a comprehensive range of services to Australian citizens, administers the Australian development assistance program to Laos, provides advice to Australian businesses, manages the formal bilateral relationship between Australia and Laos and provides a visa service for people in Laos planning to travel to Australia.

2016 Australia Awards
The 2016 Australia Awards are now accepting applications! An information session will be held on Wednesday 10th February from 6pm at Donchan Palace Hotel. You can also access application forms and further information at the website: www.australiaawardslaos.org.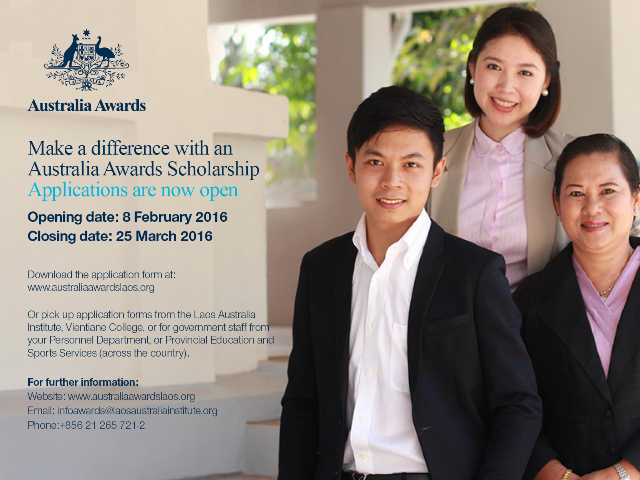 Australia Day Reception 2016

Thank you to everyone who braved the wild weather for our 2016 Australia Day celebration themed ' Perceptions of Australia'. It was a great privilege to display 40 original works of art by talented young Lao artists, showcasing their unique perception of our country and its relationship with the Lao PDR. We hope you enjoyed the night and our selection of traditional Australia Day cuisine

04 December 2015

Happy International Volunteer day for Economic and Social Development! Did you know that Australian volunteers come to Laos every year to volunteer their time and expertise with Lao organisaitions that promote social and economic development? We would like to introduce you to Anja Wiersing, a volunteer focussing on gender issues with the Association for Development of Women and Legal Education (ADWLE) in Vientiane. (Read more)

12 Nov 2015, Australia provides 50 new scholarships for Lao provincial students

Fifty students from remote and disadvantaged districts have today been awarded
scholarships by Australia for study at the National University of Laos.
In making the awards, Ambassador John Williams, said "These students now join over 250 other scholarship holders pursuing undergraduate degrees under the Laos Australia National Scholarships Program, which we call LANS". more (Eng/La)

Australia Day Reception Speech – Wed 27 January 2016, By John Williams, Australian Ambassador to the Lao PDR Read More
Australia Day Speech for Lao National TV, by H.E. Mr John Williams, Australian Ambassador to the Lao PDR, 26 January 2016 Read More
Remarks by Australian Ambassador, Handover of HitNet Hub to Lao Youth Union, Read More
National Nutrition Forum, Remark by John Williams, Australian Ambassador to the Lao PDR, Read More
Talking point LANS John Williams, 12 Nov 2015, Read More
Ambassador John Williams ' 2015 Australia Day Message' ( Read more in English / Lao )Ambassador John Williams ' 2014 Australia Day Message

The Australia Awards are prestigious international scholarships funded by the Australian Government offering the next generation of global leaders an opportunity to undertake study, research and professional development in Australia. They are designed to promote knowledge, education links and enduring ties between Australia, its neighbours and the global community.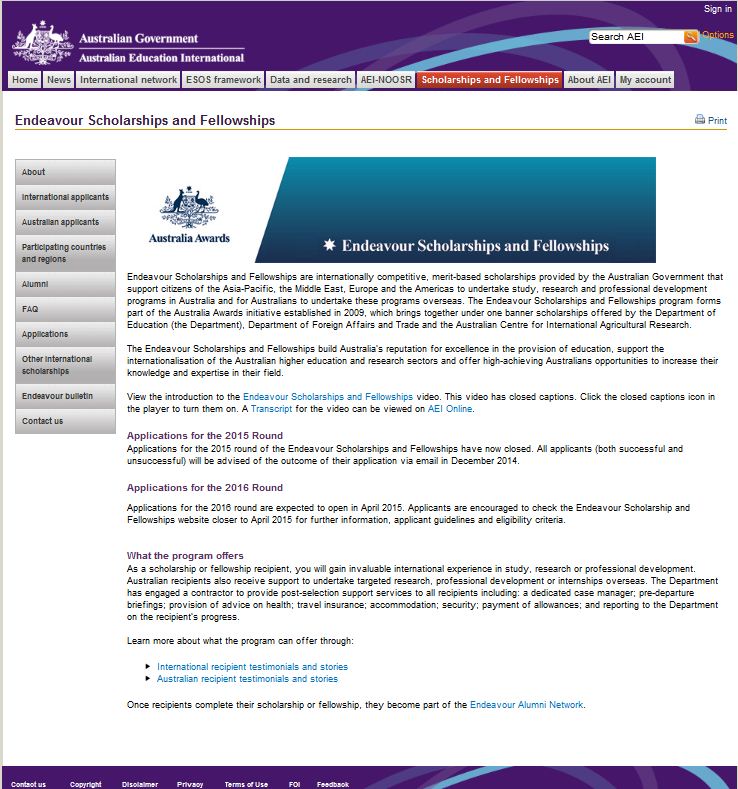 Endeavour Scholarships and Fellowships are the Australian Government's internationally competitive, merit-based scholarships, providing opportunities to undertake study, research and professional development in Australia.

The New Colombo Plan is a signature initiative of the Australian Government which aims to increase the number of Australians studying part of their degree in the region to deepen their knowledge and understanding of Asia and build people-to-people ties. The Plan provides Australian students with the opportunity to study at local universities for up to one year, as well as options for students to undertake internships with local businesses as part of their studies.
We are seeking registration from interested companies and organisations to provide internship and mentorship opportunities for Australian students in Laos. As a registered member of the New Colombo Plan Internship and Mentorship Network, businesses and other host organisations can access a diverse talent pool and support students in obtaining professional experience in the region. Please register HERE. For more information, please visit the New Colombo Plan Business Engagement site or contact the New Colombo Plan Secretariat onncp.business@dfat.gov.au


Australians intending to visit or live in Laos are encouraged to register their travel details with www.smartraveller.gov.au. By registering, you are able to access up to date travel advice, and your personal details can help us to help you in the case of an emergency
Quick link: