The Australian federal election will be held on Saturday 2 July 2016.
Early (in-person) voting will be offered at this post from Monday 20 June to 1 July 2016. Voting times will be published closer to the date.
You can find further information on voting overseas on the Australian Electoral Commission's website: www.aec.gov.au.

The Australian Embassy, located in the capital of Vientiane, offers a comprehensive range of services to Australian citizens, administers the Australian development assistance program to Laos, provides advice to Australian businesses, manages the formal bilateral relationship between Australia and Laos and provides a visa service for people in Laos planning to travel to Australia. (Link Travel Advice for Laos)

Applications for GOLPET 2016-17 are now open.
How to apply:
Application forms are available at the Personnel Departments of all Government of Laos Ministries and all Provincial Education and Sports Services around the country. Forms can also be downloaded from www.laosaustraliainstitute.org
Applications must be submitted to:
Laos Australia Institute, Setthathirath Avenue, Xiengnheun Village, Chanthabouly District, Vientiane Capital by 4.00 pm on 24 June 2016
Enquiries:
Email: infoawards@laosaustraliainstitute.org
Tel: +856 21 265721-2
Women and provincial-based staff are encouraged to apply. Special provisions are available for applicants with disabilities.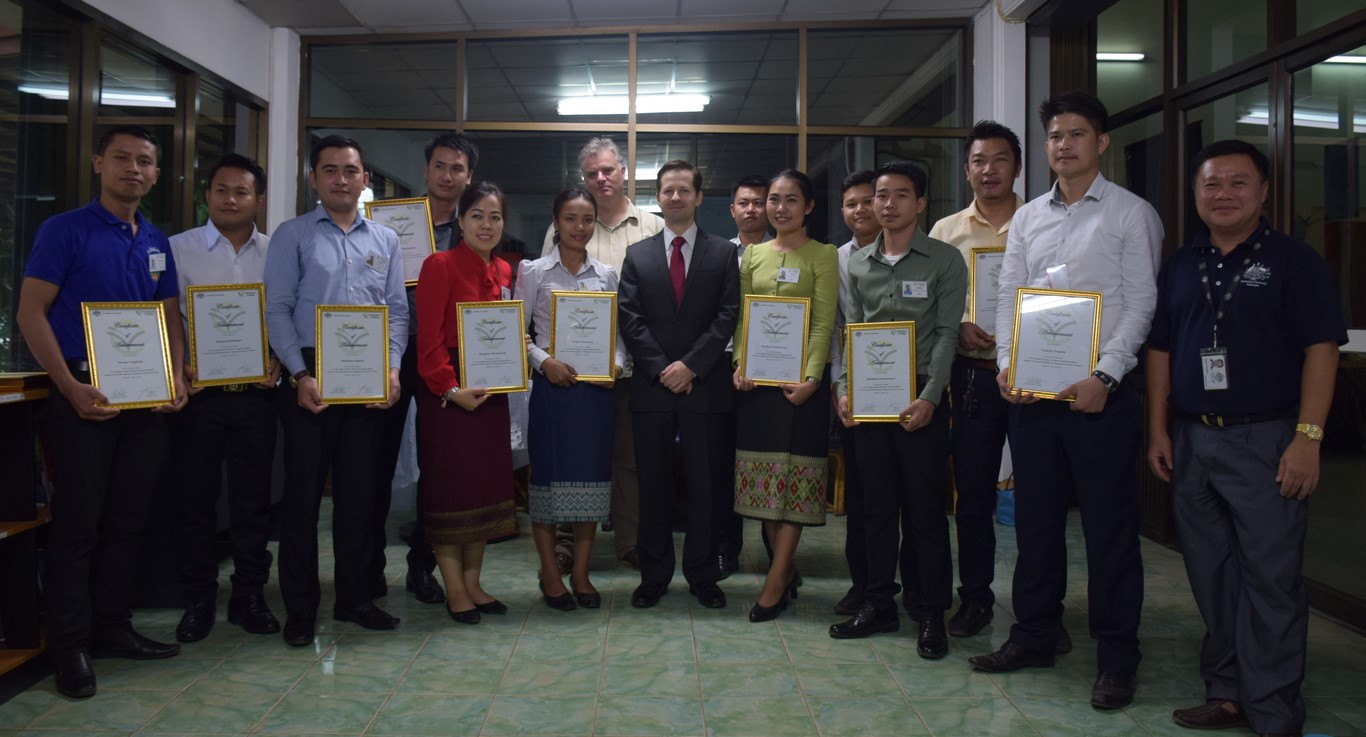 Lao border officials upgrade English skills
To enhance the English capacity of frontline immigration officials, Australia offered English Language Training programs at Vientiane College to 18 officers from the Lao Department of Immigration and Lao Customs Department. (Read more)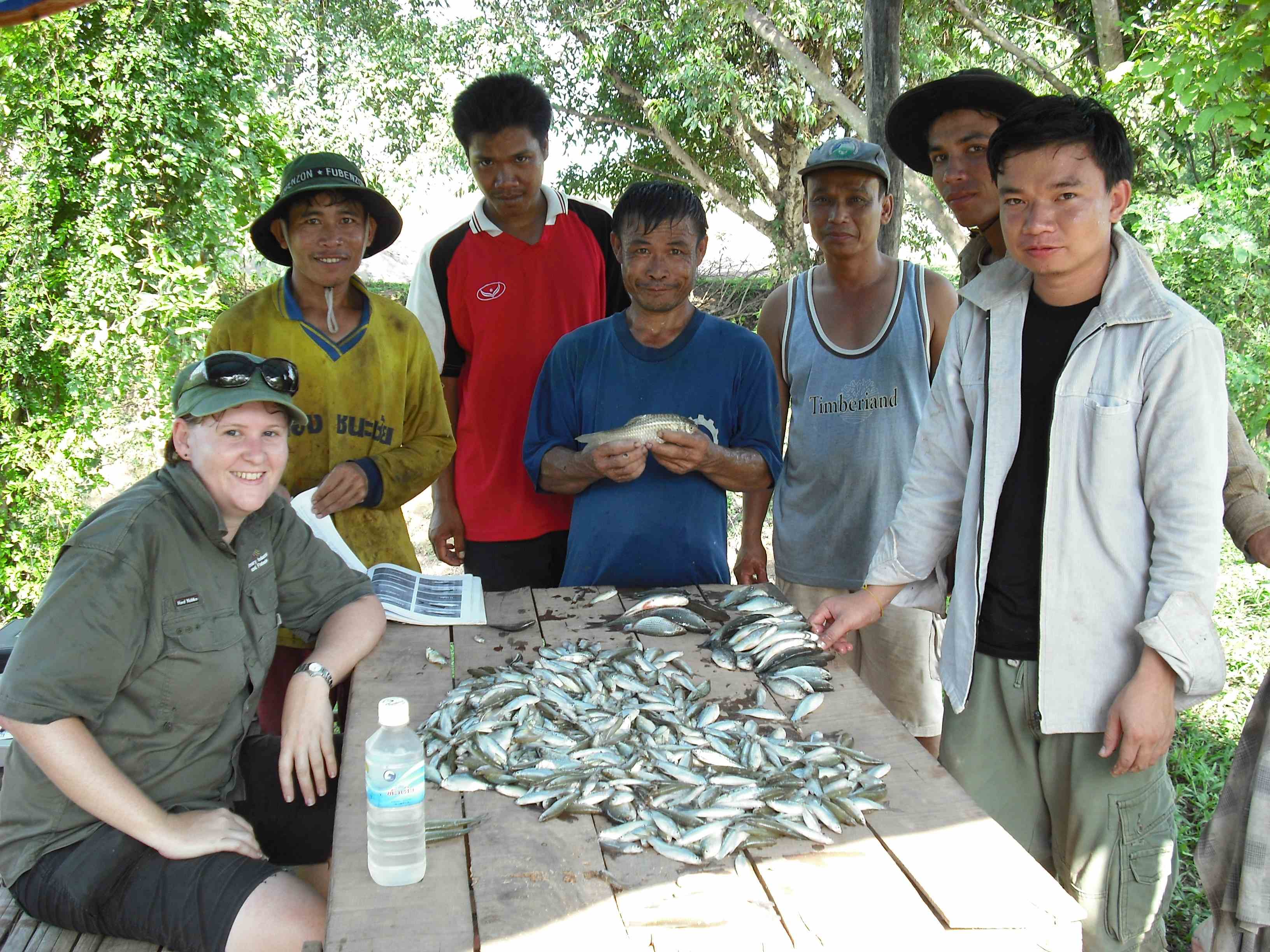 Australia launches new five-year project to quantify impacts of fishways in Laos
Australia has launched a five-year project to quantify the biophysical and community impacts of improved fish passage in Laos. The project is among the largest fisheries projects since the Australian Centre for International Agricultural Research (ACIAR) began its first Lao fisheries project on indigenous species in 1997.
(Read more: English / Lao)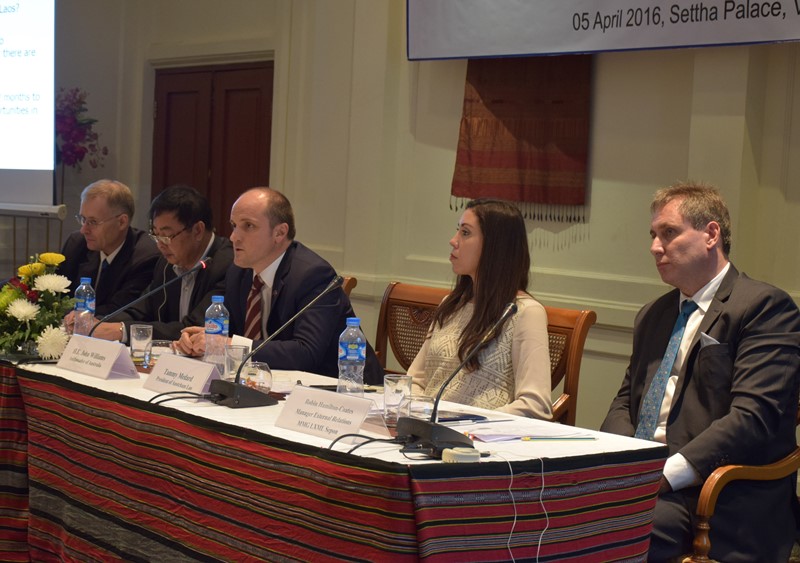 Research shows quality mining central to Laos' LDC graduation
A research paper, discussed by government officials and industry experts in Vientiane on 5 April, has underlined the ongoing importance of good practice mining if Laos is to realise its ambition of graduation from Least Developed Country (LDC) status. Read more (English / Lao)


Australia Supports English Training for Lao Officials

16 Lao officials from various ministries have successfully upgraded their English language skills under the latest Australian-funded program at Vientiane College. At a ceremony on 24 March , the Director for Thailand and Laos of Australia's Department of Foreign Affairs and Trade, Mr Anthony Aspden, presented certificates to sixteen government officials who have completed a six-month English language training program at Vientiane College. (more information, Click Here)

Australian Alumni Network for Success

Over 300 Lao alumni from Australian universities gathered in Vientiane on 10 March, alongside government, business and civil society leaders, for this year's annual Australian Alumni function. The annual reception, with the theme of "Australia and Laos: Building Bridges to a Brighter Future", is designed as a forum for professional development and networking among the 1,200 Lao scholars who have graduated from Australian universities under Australian Government scholarships. (more information, click here)

Human resource executives engage on Women's Empowerment Principles

Australia brought together senior human resource managers from major Lao banks to strengthen finance sector career prospects for women at a 29 February forum in Vientiane.The initiative, run jointly with the Australian Chamber of Commerce (AustCham Lao), the Lao Government, and major banks, is designed to improve business practices of the Lao banking sector, as well as to promote gender equality. (more information English/Lao)

Australia's New Colombo Plan supports James Cook University and Lao Archaeologist as they Unlock Lao History

A second year of excavation by a Lao and international team of archaeologists at Ban Vieng, Xieng Khouang Province, has extended evidence of occupation as far back as 3000 years or more. The team of students and archaeologists from the Lao Department of National Heritage (DNH) of the Ministry of Information, Culture and Tourism, the National University of Laos (NUoL) and James Cook University in Australia... ( Read More)

Australia Welcomes Lao PDR's ASEAN Chair Priorities

On a 23-25 February visit to Vientiane, Australia\'s Ambassador to ASEAN welcomed Laos\' priorities as ASEAN Chair in 2016, and reiterated Australia\'s commitment to assist in their implementation. Ambassador Simon Merrifield, who is based in Jakarta, said Australia, as a strategic partner of ASEAN, considers it very important to engage closely with the ASEAN Chair to explore ways to contribute to ASEAN's priorities over the year.
(more information: English / Lao)

The Australia Awards are prestigious international scholarships funded by the Australian Government offering the next generation of global leaders an opportunity to undertake study, research and professional development in Australia. They are designed to promote knowledge, education links and enduring ties between Australia, its neighbours and the global community.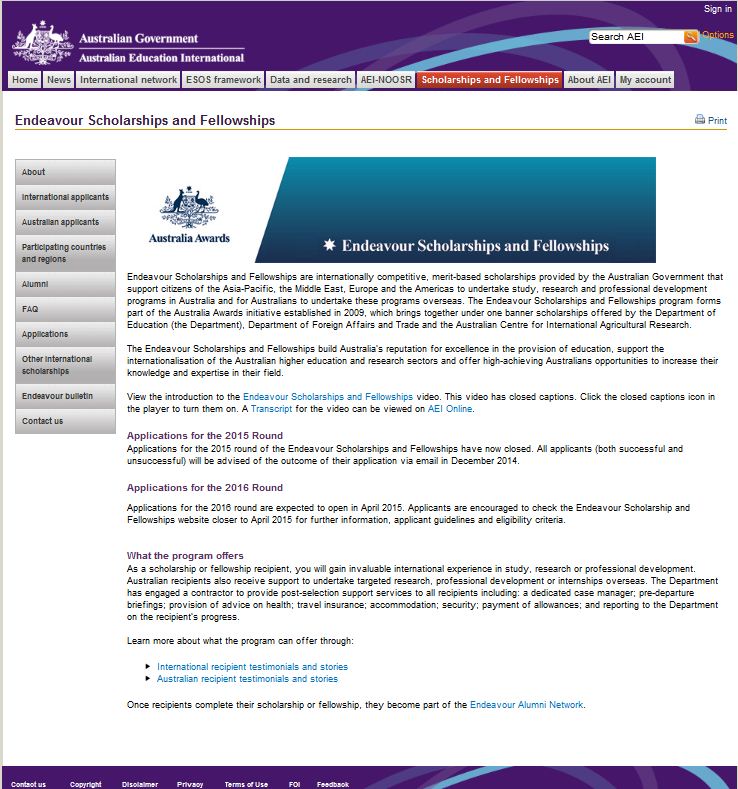 Endeavour Scholarships and Fellowships are the Australian Government's internationally competitive, merit-based scholarships, providing opportunities to undertake study, research and professional development in Australia.

The New Colombo Plan is a signature initiative of the Australian Government which aims to increase the number of Australians studying part of their degree in the region to deepen their knowledge and understanding of Asia and build people-to-people ties. The Plan provides Australian students with the opportunity to study at local universities for up to one year, as well as options for students to undertake internships with local businesses as part of their studies.
We are seeking registration from interested companies and organisations to provide internship and mentorship opportunities for Australian students in Laos. As a registered member of the New Colombo Plan Internship and Mentorship Network, businesses and other host organisations can access a diverse talent pool and support students in obtaining professional experience in the region. Please register HERE. For more information, please visit the New Colombo Plan Business Engagement site or contact the New Colombo Plan Secretariat onncp.business@dfat.gov.au