The Australian Embassy, located in the capital of Vientiane, offers a comprehensive range of services to Australian citizens, administers the Australian development assistance program to Laos, provides advice to Australian businesses, manages the formal bilateral relationship between Australia and Laos and provides a visa service for people in Laos planning to travel to Australia. (Link Travel Advice for Laos)

Lao border officials upgrade English skills
A group of 18 immigration and customs officers are the latest beneficiaries of Australia's long-standing border management programs in the Lao PDR. To enhance the English capacity of frontline immigration officials, Australia offered English Language Training programs at Vientiane College to 18 officers from the Lao Department of Immigration and Lao Customs Department. Places in more advanced English courses will be available to officials who achieved high standards in these courses.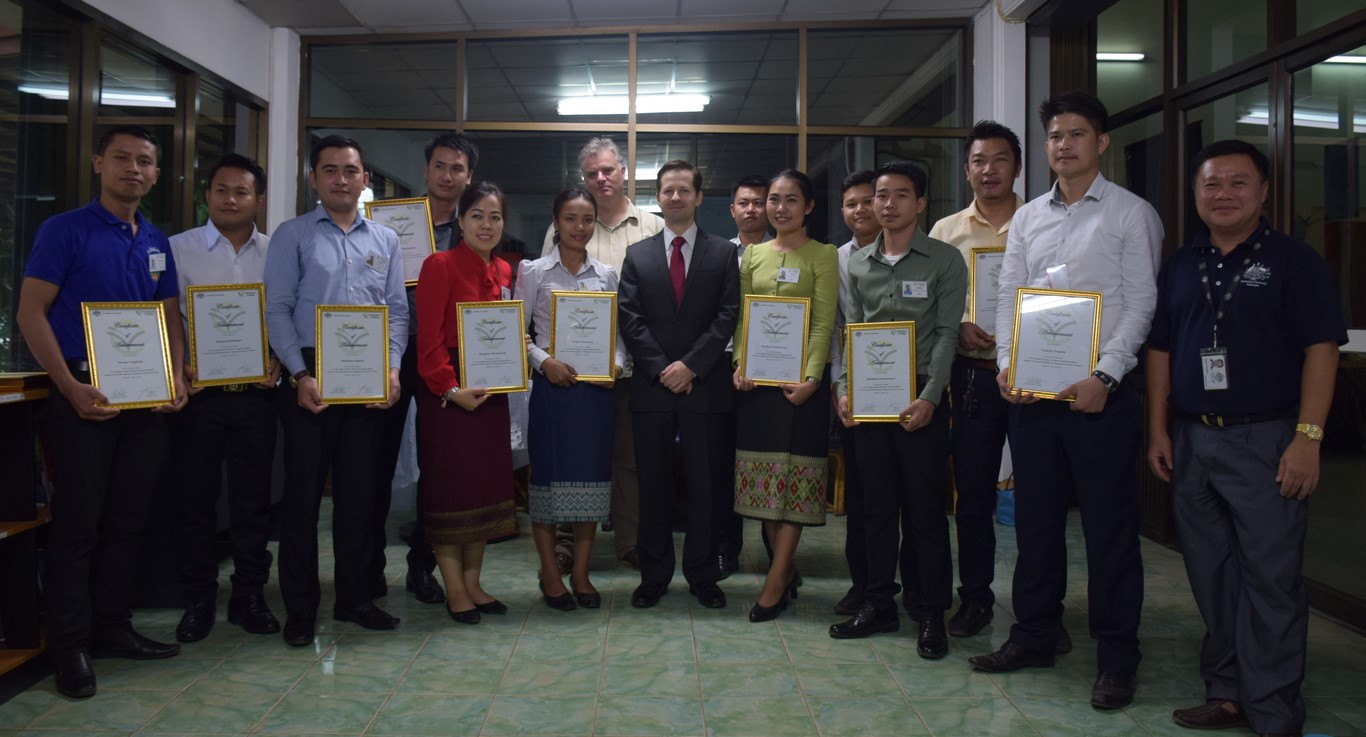 Chargé d'affairs a.i. at the Australian Embassy, Andreas Zurbrugg, was on hand to present certificates to the officials on 8 April, following their completion of the lower elementary (150 hours) and upper elementary (75 hours) English courses, that began in January. Read more
Australia launches new five-year project to quantify impacts of fishways in Laos
VIENTIANE (April 1, 2016) – Australia has launched a five-year project to quantify the biophysical and community impacts of improved fish passage in Laos. The project is among the largest fisheries projects since the Australian Centre for International Agricultural Research (ACIAR) began its first Lao fisheries project on indigenous species in 1997. It is also the fifth ACIAR project in eight years to address the use of fishways to boost Lao fish production in areas where barriers to fish migration have been built.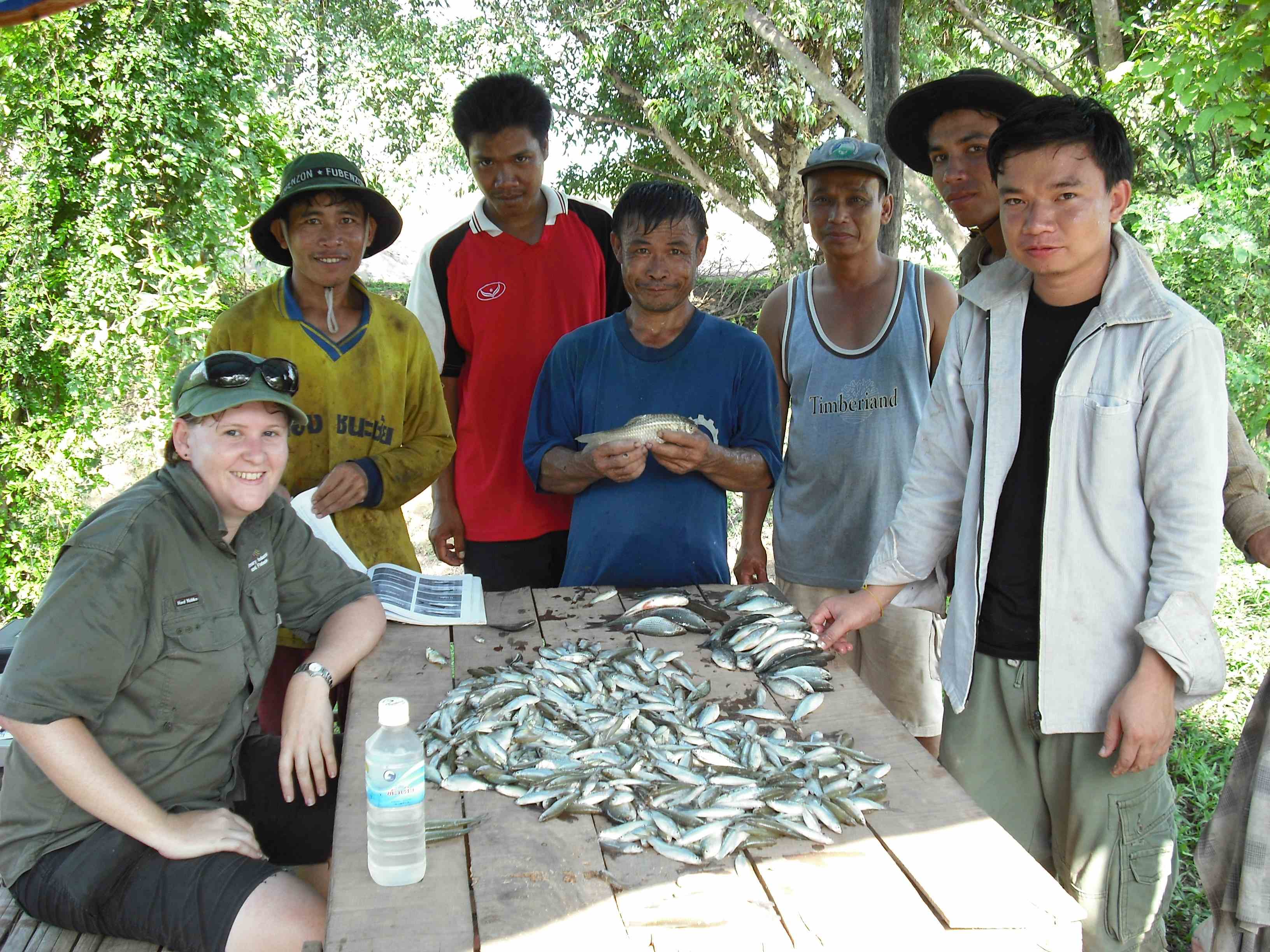 Mr Khamphiew Phimmathad, Director General of the Bolikhamxay Provincial Agriculture and Forestry Office, said development of Lao infrastructure, especially roads and irrigation systems, had occurred rapidly in recent years. "These benefits will greatly benefit agriculture but may impact to fish migration and lead to decreased wetland fish production," he told a workshop launching the project in Pak San District on Friday. (Read more information, English / Lao)
Research shows quality mining central to Laos' LDC graduation
A research paper, discussed by government officials and industry experts in Vientiane on 5 April, has underlined the ongoing importance of good practice mining if Laos is to realise its ambition of graduation from Least Developed Country (LDC) status.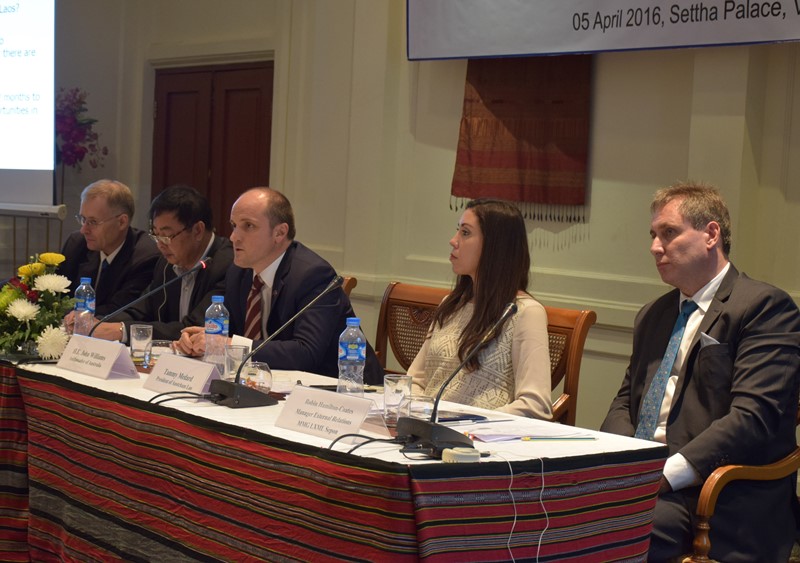 The research paper, commissioned by the Australian Embassy, highlighted of the value of quality mining for Laos' economic growth - representing over 60 per cent of total Lao export value in 2013/14. But the research noted mining revenues are expected to decline unless new investments are prioritised over the next National Socio-Economic Development Plan period to 2020. Read more (English / Lao)
Women's Empowerment Principles and the banking sector series
The Australian Embassy and Australian Chamber of Commerce (Austcham Lao) have teamed up with the Lao Government and business partners to develop strategies to empower women in the workplace, marketplace and community.
The final event chaired by H.E. Mr John Williams, Australian Ambassador to the Lao PDR and Ms. Tammy Medard, CEO of ANZ Bank Lao and Austcham President concludes a four-part se-ries, which was launched with Banking Sector Chief Executive Officers in February and followed by events with human resource managers, chief operating officers and business leaders across the banking sector in the Lao PDR. Read more
16 Lao officials from various ministries have successfully upgraded their English language skills under the latest Australian-funded program at Vientiane College. At a ceremony on 24 March , the Director for Thailand and Laos of Australia's Department of Foreign Affairs and Trade, Mr Anthony Aspden, presented certificates to sixteen government officials who have completed a six-month English language training program at Vientiane College. (more information, Click Here)

Over 300 Lao alumni from Australian universities gathered in Vientiane on 10 March, alongside government, business and civil society leaders, for this year's annual Australian Alumni function. The annual reception, with the theme of "Australia and Laos: Building Bridges to a Brighter Future", is designed as a forum for professional development and networking among the 1,200 Lao scholars who have graduated from Australian universities under Australian Government scholarships. Several hundred other Lao students have completed privately-funded degrees in Australia (more information, click here)

Australia brought together senior human resource managers from major Lao banks to strengthen finance sector career prospects for women at a 29 February forum in Vientiane.The initiative, run jointly with the Australian Chamber of Commerce (AustCham Lao), the Lao Government, and major banks, is designed to improve business practices of the Lao banking sector, as well as to promote gender equality. Australian Ambassador to the Lao PDR, John Williams, said global research showed the financial benefits of supporting both female and male employees to realise their full potential in the work place. (Click here for more information English/Lao)

A second year of excavation by a Lao and international team of archaeologists at Ban Vieng, Xieng Khouang Province, has extended evidence of occupation as far back as 3000 years or more. The team of students and archaeologists from the Lao Department of National Heritage (DNH) of the Ministry of Information, Culture and Tourism, the National University of Laos (NUoL) and James Cook University in Australia identified 41 \'special\' artefacts amongst a much larger collection of finds. Read More

On a 23-25 February visit to Vientiane, Australia\'s Ambassador to ASEAN welcomed Laos\' priorities as ASEAN Chair in 2016, and reiterated Australia\'s commitment to assist in their implementation. Ambassador Simon Merrifield, who is based in Jakarta, said Australia, as a strategic partner of ASEAN, considers it very important

to engage closely with the ASEAN Chair to explore ways to contribute to ASEAN\'s priorities over the year. "It\'s a great pleasure to be back in Vientiane on my third visit as Australia\'s Ambassador to ASEAN," Merrifield said. "I have had excellent meetings with Lao officials, including Vice Foreign Minister Alounkeo Khittikoun, and comprehensive read outs on what the Lao PDR wants to achieve as Chair this year." English / Lao

ANZAC Day 2016 Dawn Service Vientiane Speech by Australia's Ambassador to the Lao PDR John Williams (25 April 2016)
Seminar on Good Practice Mining: Part of a strong and growing Lao economy, Opening remarks by John Williams, Australian Ambassador to the Lao PDR. Settha Palace Hotel, Vientiane, 5 April 2016
Hand-over ceremony of textbooks for primary school grades 3, 4 and 5 co-funded by UNICEF, Australia and European Union (English / Lao)
Australia Day Reception Speech By John Williams, Australian Ambassador to the Lao PDR on Wed 27 January 2016
BEQUAL Steering Committee, Friday 26 February 2016, 8:30-12:10, Opening remarks by John Williams, Australian Ambassador to the Lao PDR
Ambassador John Williams 2015 Australia Day Message. Read more in English / Lao >>
Ambassador John Williams 2014 Australia Day Message

The Australia Awards are prestigious international scholarships funded by the Australian Government offering the next generation of global leaders an opportunity to undertake study, research and professional development in Australia. They are designed to promote knowledge, education links and enduring ties between Australia, its neighbours and the global community.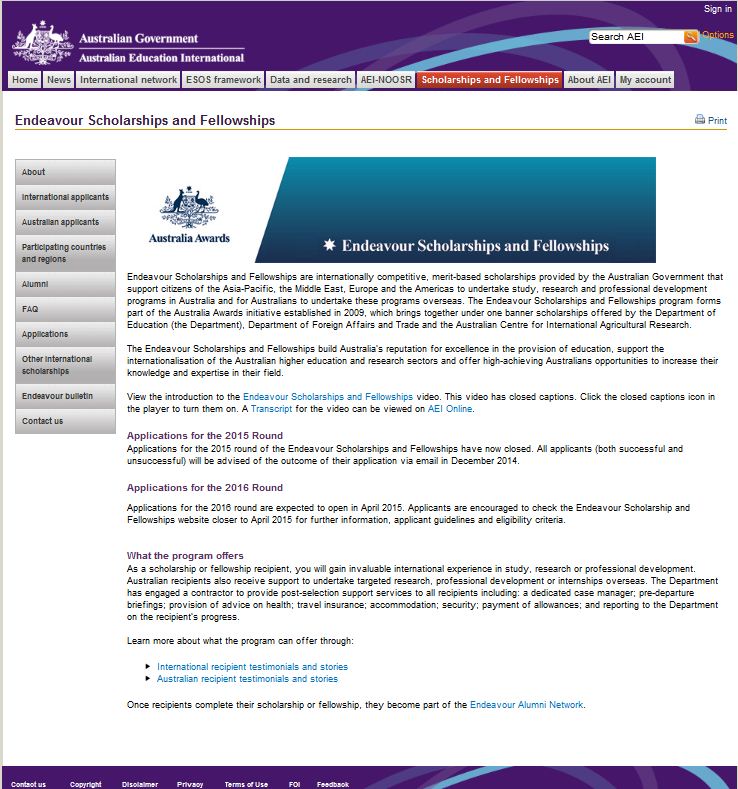 Endeavour Scholarships and Fellowships are the Australian Government's internationally competitive, merit-based scholarships, providing opportunities to undertake study, research and professional development in Australia.

The New Colombo Plan is a signature initiative of the Australian Government which aims to increase the number of Australians studying part of their degree in the region to deepen their knowledge and understanding of Asia and build people-to-people ties. The Plan provides Australian students with the opportunity to study at local universities for up to one year, as well as options for students to undertake internships with local businesses as part of their studies.
We are seeking registration from interested companies and organisations to provide internship and mentorship opportunities for Australian students in Laos. As a registered member of the New Colombo Plan Internship and Mentorship Network, businesses and other host organisations can access a diverse talent pool and support students in obtaining professional experience in the region. Please register HERE. For more information, please visit the New Colombo Plan Business Engagement site or contact the New Colombo Plan Secretariat onncp.business@dfat.gov.au

Australians living in Laos or visiting Laos are encouraged to register on-line or complete a registration form at the Embassy. Registrations can be amended by contacting the Embassy via email at austemb.laos@dfat.gov.au.
Quick link: