The New Colombo Plan is a signature initiative of the Australian Government which aims to increase the number of Australians studying part of their degree in the region to deepen their knowledge and understanding of Asia and build people-to-people ties. The Plan provides Australian students with the opportunity to study at local universities for up to one year, as well as options for students to undertake internships with local businesses as part of their studies.
We are seeking registration from interested companies and organisations to provide internship and mentorship opportunities for Australian students in Laos. As a registered member of the New Colombo Plan Internship and Mentorship Network, businesses and other host organisations can access a diverse talent pool and support students in obtaining professional experience in the region. Please register HERE. For more information, please visit the New Colombo Plan Business Engagement site or contact the New Colombo Plan Secretariat on [email protected]
As skills development is one of Lao PDR's highest priorities and one of its most significant development challenges. Australia is supporting education and skills development in Laos through targeted scholarships, training and technical assistance for government and civil society to improve the management and delivery of social services through the Laos-Australia Institute (A$14.4 million, 2013-17).
The Institute enhances existing Australian aid investments in Laos in the areas of education, trade and development, rural development and water resource management through developing the human capacity of individuals and organisations. It focuses, in particular, on inclusive human resource development, such as empowering women and people living with disability to take on leadership and senior management roles. The Laos-Australia Institute delivers 30 long-term Australia Awards scholarships each year, 70 Bachelor degrees at local universities and actively support the more than 1,200 Australian alumni in the Lao PDR.
Story from the field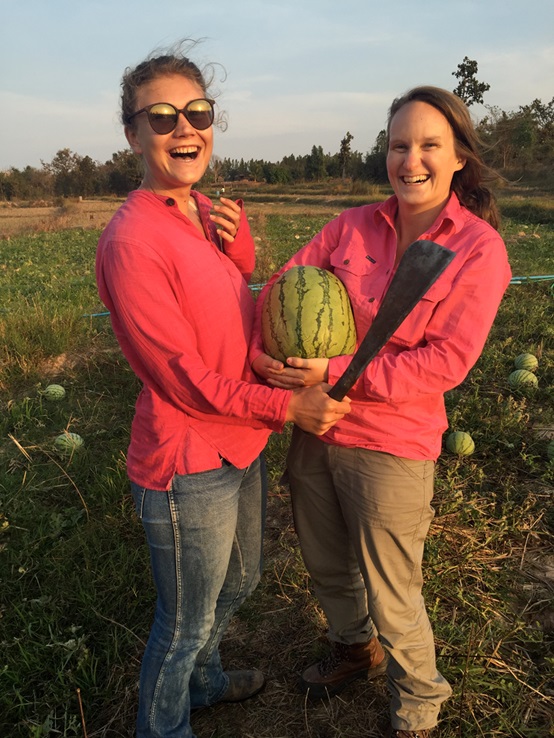 Jillian Lyall and Harriet Brickhill
As students with an interest in development, we had the opportunity to discover first-hand the combined efforts of national and international project staff required to successfully conduct non-rice crop research trials in southern Laos. This activity contributes to a larger research project funded by ACIAR and it seeks to overcome soil, water and nutrient constraints in the rice-growing lowlands. Our trip was supported by the New Colombo Plan which enabled us to connect with many other researchers operating in the area including Mr Lester Burgess of The Crawford Fund and his merry band of Australian volunteers who enthusiastically introduced us to all the weird and wonderful plant pathogens of which we were previously unaware of! (Read more)